What is Spyware?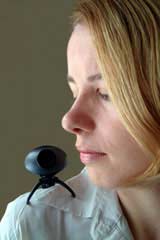 Spyware has become one of the most pervasive Internet threats today. Without your knowledge it can not only ruin your computer, but also your life. It can slip onto your machine easily, but removing spyware can be a lengthy, frustrating business. The simple way is to try and make sure you keep the threat to a minimum.
What Spyware Does
Spyware often arrives hidden in a free programme you've downloaded from the Net or in the attachment to an e-mail (it can be tucked away in something as innocent as a picture). You won't know it's there until it starts to act.
In its most benign form, spyware is used for advertising purposes, and call adware. You might suddenly find pop-up adverts appearing on your screen, even when you're not connected online. There might be a new toolbar on your browser that you don't recall installing. You might type in a web address and surprisingly find yourself on a completely different site. Or you could find that your home page has mysteriously changed or that there have been changes in your computer's registry files. Almost certainly your computer will be more sluggish.
A more malicious type of spyware doesn't announce itself in that way. Instead it records every keystroke that you make, and at pre-set intervals, transmits those to a third party. Consider what that means: someone, somewhere, knows everything you typed, be it work, love letters, web addresses…or your personal and financial information. The worst part is, if you have one piece of spyware on your system, the chances are you actually have dozens.
How You Become Infected
The best way to get spyware on a computer is for the user to install it himself. So it often comes piggybacked onto software you download, such as a file-sharing programme, or even masquerading as an anti-spyware utility.
Pop-up ads can contain spyware. Those ads offering optimised computer performance, for example, could easily be installing spyware if you click yes or accept.
Another, trickier way is exploit holes in your browser's security - in recent years Internet Explorer has been particularly vulnerable to these, but it's not the only one. It can happen if you go to a web page that contains spyware. Code on the page attacks your browser and forces the installation of spyware.
How to Prevent Spyware
Spyware can be insidious, and even with the very best safeguards, it's still possible to become infected. However, there are some things you can do to greatly lessen the chances of that happening.
Be very careful what software you download from the Web. Download only from trusted sites. Spyware can often be found on person-to-person file sharing networks (often in the initial software you download), and on pornography sites. The simple solution is don't download anything you don't know.
Never open e-mail attachments from anyone you don't know. Spyware can easily be hidden or disguised.
If you receive a pop-up advert, never close it by clicking "OK" or "Agree." Always use the red "X." Never accept a pop-up.
Download a pop-up blocker.
Use both a good anti-virus and a firewall. You can obtain both for free, downloading online (there are a few trusted names) or buy on CD to install. A firewall makes it harder to hack into your computer, whilst using an anti-virus (and scanning your computer regularly, preferably daily but at least weekly) will help keep your machine clean.
Don't lower the security level of your browser. The default setting is medium, which should be adequate, although you can alter it by opening Internet Explorer, clicking on Tools > Internet Options, and then clicking the Privacy tab.
Finally, install anti-adware and anti-spyware. Again, there is free software that will do the job, although once again you'll need to scan regularly.
If you're Infected
The odds are that every time you scan with anti-spyware, you'll find some adware, at the very least. Most of it will be cookies, the small trackers web sites put on your machine. They're harmless, but you should delete them. Do the same with anything else you find.
The first time you scan might prove to be a shock. You'll probably be more infected than you realise. You won't be alone - estimates are the 67% of all computers are infected with some kind of spyware. Quarantine and delete everything you find. But if you're not sure how to proceed, don't be afraid to take your computer in and have a professional work on it. Yes, it'll cost a little, but it's far cheaper than some of the possible alternatives.
Fighting spyware is an ongoing battle. But if you do everything above, it's one you can win.
You might also like...