Online Pharmacies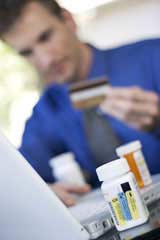 Anyone with an e-mail account has probably had many spam offerings trying to sell them Viagra or other drugs at cheap prices. Although not always a proper scam - most sites do deliver a product - it can be dangerous. You may be obtaining medication from an unknown and unregulated source, usually without a doctor's prescription.
How To Differentiate Between The Real And The Dubious
Do they have a landline phone number and a street contact address? A proper pharmacy will display both and be glad to handle phone queries.
Look at the address bar in your browser. Is there a proper web site name or is the domain name more complex (for example /amiaminifg.net/HlvCGoiogpHkzl8FaT9sOfk6G/FBouNxwSAAYDDgclCxUeTAUD.htm or /204.37.84.153/viagra.htm). A reputable company will have a proper web site.
Consider how you discovered the site. If it was via e-mail spam or a banner ad on another site, be very dubious.
How long have they been in business? You can discover by going to Google, then cache: www.nameofsite.com, site: www.nameofsite.com, and link: www.nameofsite.com. These will give you when the search engine last checked the site, how many pages of the site and in the search engine, and how many pages sites to it. The more indexed pages it has, and the more legitimate sites link to it, the longer it's been in existence. Beware of sites that have only gone online recently.
How many products do they handle? If it's in the region of only 50-100, beware. A real pharmacy will have thousands.
Do they possess an SSL certificate, that is, if you place an order, is there a closed padlock icon at the bottom of your screen. Without it, anyone can read your credit card information.
Do they provide you with tracking information through an independent site? If not, be suspicious.
Do they charge a subscription fee? No legitimate pharmacy will do so.
Do they want a doctor's prescription before fulfilling an order? A true pharmacy will need one to dispense. Some sites claim to have a doctor who can prescribe. Who is he? What are his qualifications?
How Do You Know What you're Buying?
A number of countries, like the U.K., U.S. and Canada test and regulate all drugs before allowing them to be sold. Plenty of other places, like Eastern Europe and Asia (the home to many online pharmacy sites) are far less stringent. The ingredients in your order might well be of a much lower grade or even wrong.
The simple fact is that unless you know who you're dealing with and their good reputation, you really don't know what you're getting. In the case of vital prescription medications, that can be life threatening. Even with something like Viagra, where going into a local chemist might prove embarrassing, ordering from a dubious, unregulated online pharmacy can be dangerous, because you simply have no idea what's gone into the pills, and short of having them analysed, there's no way to be certain.
Online Pharmacy Scam
When you place an order with an unknown, unregulated site, how do you know that you'll even receive your purchase? It could simply be a scam to steal credit card numbers for future use. If they claim a 5-6 week delivery time, be extremely cautious. That offers enough time for them to receive payment from the credit card company and disappear. When you do business with someone unknown, check your card statement carefully, not only to ensure the transaction has gone through for only the proper amount, but also any unfamiliar activity. If you notice any discrepancies, contact your credit card company immediately, as well as the credit reporting agencies, asking for a copy of your credit file, and have a fraud alert placed on your account.
Online pharmacies are a huge business, and plenty of them are legitimate. In a number of cases, depending on what you buy, they can save you money. But do you research before you buy to make sure you're dealing with someone reputable and properly licensed to dispense. Only then can you be certain that what you order will really be what you receive.
You might also like...