Vishing Scam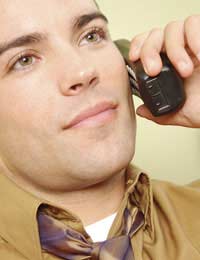 By now most people have heard of phishing the scam where you receive a convincing-looking e-mail asking you to verify account information with Paypal or a bank. But when you click the link on the mail, you're sent to a fake (but equally convincing) web site where the details you enter become the property of the scammer and you can easily find yourself the victim of identity theft.
Phishing still happens, and people still fall victim to it, unfortunately. But more and more people have become wise to the trick, so the criminals have come up with a new wrinkle. Instead of sending you a link in an e-mail, they ask you to call a phone number. It's phishing by voice, which people have dubbed vishing.
How It Works
You receive an e-mail purporting to be from Paypal or your bank. It tells you that your account's been compromised and asks you to call a phone number. There's a sense of urgency to it – the mail might say you have 48 hours to respond or your account will be suspended, for instance.
However, there have also been instances of cold calling, where you pick up the phone and receive an automated message saying there's a problem with your account, and prompting you to enter your details.
The problem comes when you respond to either the e-mail or the phone message. You're taken into an automated voice system that claims to belong to the bank or whoever you're dealing with and that seems as official as anything a proper institution would use, and prompted for all the details on your account. At the end you're thanked and disconnected. The first you know that you've been scammed is when money begins vanishing from your account (or extra charges appear on your account).
There have been instances in America of people receiving calls from real people to try and achieve the ads, usually claiming to be from a phone company, and offering a special discount. All they needed was some information – although, according to utility spokespeople, no one responded.
How to Avoid the Scam
The simplest way to avoid being scammed is not to respond to the e-mail or phone call. Look carefully at the e-mail – does it have your name on it? It won't, but no real institution would send you a mail without identifying that it was for you. Likewise, no bank would use a computer call to say your account had been compromised.
Never assume something is legitimate. Even if you receive a call from a person, call them back on the number you have for your bank. Even if the calls seems to originate from a probable code – 0207, for instance – don't believe it. With VOIP (Voice over IP), you can get a number anywhere in the world; it means nothing, and setting up an automated response system can prove to be well worth the expense.
We've become educated enough to doubt links in e-mails. But we still tend to accept that a phone number must make everything real. To stop being scammed, you have to be more cynical and never take anything at face value. Call the bank or institution to check on the mail, but use the number from your card or statement.
Simply put, don't believe a word and you'll be much safer.
You might also like...
Had a text message this morning form a mobile number saying that I've missed a delivery and that I needed to pay 1.50 to R.M. Lucky enough my iPhone alerted me that the site was fraudulent Just made a report online and hopeing they catch the person behind it
don't know
- 17-Mar-21 @ 10:09 PM
I received an email from Royal Mail regarding a missed letter from HM customs there was a link to reschedule and I clicked on it and it was a form but misaligned. I started to fill it in but became suspicious when asked for Debit Card Details. I rang customer service but was left holding. I came to this site which confirms it's a scam
Lynn
- 13-Nov-20 @ 2:07 PM
Ordered an item on eBay, due for delivery next day. Received a text message from 38794 asking me to confirm the contents of the box, as the item was being held at the depot. The link took me to an image of the contents (not what I ordered) but I didn't proceed any further with the request to confirm if it was my purchase or not.I now have a notification of a prize win on my phone which was not there before and I don't appear to be able to delete it.I did receive an email from Parcelforce confirming my delivery slot today.
Watchful
- 12-Mar-20 @ 11:30 AM
Partner received text from Royal Mail requesting money for settlement of £2.99 on the following link: http://bit.ly/35G8D8U. Before they would deliver parcel. Not ordered anything, not expecting a delivery. Is this a scam. Phoning is not an option waiting too long for contact
M.U.
- 13-Jan-20 @ 10:41 AM
My partner has received a text saying " Your Royal Mail Parcel is due for delivery. Please confirm the settlement of£2.99(GBP) on the following link: http://bit.ly /35G8D8U. Haven't ordered anything, not awaiting a delivery. Phoned R.M. but waiting too long to speak to anyone.
M.U.
- 13-Jan-20 @ 10:32 AM
I've received a text message saying it's from Royal Mail, it says there is an item waiting to be collected its gives a http link the rest of the text says you to took on one of the spots on our Curry's Xmas list. I'm sure it's a scam.
Tiny
- 16-Dec-19 @ 7:50 AM
I have been receiving emails saying I have sumsung galaxy s10 at one of the depots to say thank you for reaching a certain amount of parcels I received. Is this a scom. They are asking for my email
Bandason
- 21-Nov-19 @ 8:18 PM
if i only have fee to pay card reference number,can I pay online?Because I can only provide accurate payment reference number and amounts, the address and date cannot be guaranteed and the letter is correct.
linxu
- 25-Jul-19 @ 1:00 PM
Jhey - Your Question:
I received an email from Royal Mail saying that my fiancé belongings are arrived to london to receive the parcel they want me to send £2150 via western Union im not really sure if this is scam please help me thank you!
---
Our Response:
Contact Royal Mail via the details on their website or at your local depot or post office, they'll be able to check it out for you.
SafeFromScams
- 24-Jul-18 @ 10:30 AM
I received an email from Royal Mail saying that my fiancé belongings are arrived to london to receive the parcel they want me to send £2150 via western Union im not really sure if this is scam please help me thank you!
Jhey
- 23-Jul-18 @ 6:26 AM
AEAC0155408 has been used here in Nigeria to scam my sister. Please be careful.
Wmy
- 16-Jul-18 @ 9:41 AM
Scam messages can be a nuisance and the fraudsters can go to jail.
Le Tissier Pearson
- 22-Jun-18 @ 4:08 AM
I " friend" sent me an image of some proof that he sent me a parcel from the UK. The parcel number is AEAC 0155408. I received a call presumably from Parcelforcel couriers in South Africa asking me to make delivery payment via Moneygram so that the parcel can be sent to me in Botswana. There is no grey card but only a telephone call. I have a feeling that this is a scam. I tried to track the parcel with the code that appears on the image that was sent to me but there are no results to show. Please help. Thank you.
Ndox
- 9-May-16 @ 8:07 PM
beatie - Your Question:
I receive a waybill from a guy in Uk I just want to knoe if this is a legal document WK6453636PTA.Can you please assist or advise please.Thanks
---
Our Response:
Ask for details of the carrier/courier and then check out the number with them...most companies have an online system for checking and tracking.
SafeFromScams
- 10-Nov-15 @ 11:55 AM
i receive a waybill from a guy in Uk I just want to knoe if this is a legal documentWK6453636PTA .Can you please assist or advise please. Thanks
beatie
- 9-Nov-15 @ 6:25 AM