Ebay Buy and Switch Scam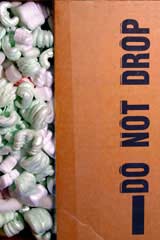 EBay experiences millions of transactions every day, and most of them go off without trace. But it's also a haven for scammers and their tricks. One of the most common is "buy and switch," an update of an old mail order scam.
How It Works
It's a clever little scam, and one that's almost undetectable. The buyer has an item of moderate value that's broken or unusable. He searches eBay for the same item, in good condition, then bids on it and wins it. When he receives the undamaged item, he switches it for his broken one, telling the seller it was either broken in transit, or accusing the seller of auctioning off broken goods, and threatening to leave negative feedback.
As most sellers want to maintain high positive feedback, they'll refund the money, leaving the buyer with an undamaged item free of charge. With this scam, the buyer will insist the seller leaves feedback first before leaving theirs - a form of blackmail.
Since it's rarely reported, there's no way of knowing how pervasive this scam is, or how many sellers fall victim to it on an annual basis, but estimates are in the thousands.
How To Avoid The Scam
Truthfully, this is a scam that's almost impossible to avoid. It's also virtually impossible to prove - how can you ever be certain that the merchandise wasn't damaged in transit, for instance?
The best way to protect yourself, if the item is of more than nominal value, is to insist on insurance. It adds a little to the postage, but it can save you problems later.
If you receive a communication from a buyer about receiving damaged goods, check his feedback. If there are neutral remarks or even questionable ones, contact other sellers to see if they've had problems. Don't be afraid to confront the buyer and report him to EBay.
If You've Been A Victim
Unfortunately, your chances of recouping your money or your undamaged item are small. It's a situation where you have to chalk up the loss to experience, and, if you have even the slightest suspicion, refuse to sell to that person again.
You can also bite the bullet and leave negative feedback, accusing the buyer. But your problem then becomes proving the accusation.
Reader's Tip
Thanks to Jared who left this tip in our comments section below. Some ways to protect yourself:
Put a small sticker on a generally inaccessible/unchecked part of the item
Make a note of the serial number
Scratch a code that only you know - into the plastic of areas that aren't visible
Put a rolled up note parts that people might not check - e.g. bike handlebar
N.B! Take a photos of what you've done before you sent off the item
- making sure to capture the entire item along with the mark shown. This will make it much easier to prove that item returned is not the same as the one you sent if you decide to go down the eBay resolution route.
You might also like...
Actually there is quite an easy way to protect yourself from this kind of scam for some products , similar to putting a rolled up note in your Bicycle handlebar, put some identifiable mark on the computer, for instance you could put a note under the hard Drive or note down the serial number. In fact for most items with stickers etc note down the serial numbers. You can also scratchin identifiable marks into the plastics in areas that aren't visible, Take a photos of this marking sure to take a photo of the whole product with the mark shown then when it goes to resolution center, with the non original returned item or if the buyer claims physical damage ask them to take a photo including the mark and the damage in the photo.
JaredReabow
- 11-Jul-13 @ 9:26 AM