Work from Home Scams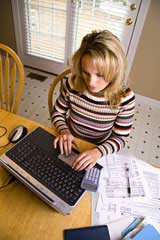 In an age of downsizing, layoffs, and the need for extra income, the idea of working from home can be very attractive. There's no long commute, you can work the hours you want, and if you believe the spam e-mails that land in your inbox, you can make a very good income. It's true that there are many legitimate work from home opportunities. But there are also plenty of scams, up to 300 at any one time, according to the Office of Fair Trading. This will help you sort the wheat from the chaff.
How It Works
Perhaps the oldest of all these is the promise of making money stuffing envelopes. Apply, and you'll be asked to pay a registration fee. In return you receive advice on placing a similar ad to recruit others. It's a pyramid scheme, and a scam. Do it and you can find yourself prosecuted for fraud.
Home assembly kits require you to pay a fee for a kit. After you've assembled it and sent it in, the scammer rejects it as sub-standard, leaving you out for materials.
Home working directories claim to offer different work opportunities. But what you receive for your money is a directory of other companies with their own registration fees.
Those all demand money upfront (as do many others, including the medical billing scam, which is common in America), but bring no return. Much the same applies to product testing at home, reading books for money and data entry or typing at home. Be very suspicious of them all.
There are others that don't ask for money, although you still won't make a living wage. Making money completing surveys is a common one. Register (some sites ask for a fee) and you'll be contacted to take surveys, which do pay money. However, you won't even make enough to pay for your groceries, and often that's in "credit" for the site with which you've registered.
All of these scams have been around for decades, updated for the Internet age. One that's new, however, is surfing the Web for money. Again, the promise is big money. But once more, the chances of being paid are small. Surf Junky is one of the biggest of these, but many reports state that once a customer reaches a balance of $25, the account is marked for deletion, with the company claiming the customer has used illegal programmes to inflate their payout rate.
How To Avoid Being Scammed
The first piece of advice is not to believe what you read. There's no honest way to get rich quick. Be very sceptical and think twice about everything.
Insist on a landline phone number to contact the company (not a mobile). Get an address, a proper street address, not a P.O. Box or an accommodation address.
Be certain who you're dealing with. The company might not be employing you directly, but merely finding a market for your work.
Never send money without first investigating the company. Any legitimate company will answer your enquiries.
Ask for references. Don't settle for one or two, who might be planted shills. Talk to several different people, in person if possible, and don't be afraid to ask hard questions.
If the work involves creating and selling a product, make sure there's a market for it.
Be aware of any legal requirements involved (would the work require you to legally register with a government agency or the Inland Revenue, for example).
If the company is asking for money, know the details of their refund policy and obtain them in writing. If they don't have one, don't proceed.
Should a company offer you an advance on your "pay," don't believe a word. Often, after you've deposited the cheque, the company will contact you saying you've been paid the wrong amount, and you need to refund part of it. Then, once your cheque is in their bank, you'll discover their cheque to you has bounced.
What To Do If You've Been Scammed
About your only recourse if you fall victim to one of these scams is to report it to the Office of Fair Trading. Make sure you've kept as much information as possible, including addresses (street and e-mail) and phone numbers and notes of their promises and the reality. They will investigate and if possible prosecute the criminals. That said, it's unlikely you'll ever see your money again. Usually, the companies behind these scams just stop doing business, only to reappear with a different name and number within a matter of days.
People do make a living working from home. But it requires a great deal of work and self-discipline. They know there's no pot of gold at the end of the rainbow. Be careful who you do business with, and you too can be earning from your own house.
You might also like...