Click Fraud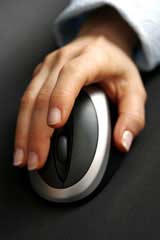 It's a scam many people know nothing about, but click fraud can be a very lucrative business, one that costs companies millions of pounds each year. It's something that came into existence with advertising on the Web, and as online ads have become more valuable, so the incidence of click fraud has grown.
How It Works
Click fraud revolves around pay per click advertising (PPC). That's when a site displays links from an advertiser, and in return receives a certain sum each time a viewer clicks on the link. In a search engine, it involves bidding for ranking - how high the site appears in a listing. The price and placement depend mainly on how much the advertiser wants to bid for the search term - also known as the keyword in ad jargon. Advertising networks have evolved, acting as middlemen. Each time the ad is clicked on, the advertiser pays the network, which in turn then pays the displaying site a percentage of the revenue (or keeps the money, if it's on their search engine).
The fraud comes when a large number of clicks are made on an ad, either by human or automated means. It can be for the financial gain of the clicker, or to deplete the funds of the advertiser. Either way it undermines the credibility of the entire programme, and it can cost your business a lot more than you'd ever anticipated- click fraud is estimated to affect between 10 and 20 per cent of all search network ads, and each click can cost a business £10 or more.
How To Detect Click Fraud
Click fraud can be difficult to detect. Often it's carried out by automated programmes called bots, which are set to click on links displayed on web sites or listed in search queries. Commonly, a legitimate site is duplicated under another name, complete with text ads from the search network. The bot is then trained to click on the ad links that appear on the bogus site. Or the perpetrator might hire workers at a very low rate in places like India or China to click on these links. The Internet Protocol address (IP) can been hidden quite easily through certain sites. Finally, a company might click on their competitors' links in order to deplete ad budgets and skew the search results.
Google and others employ fraud squads specifically to look into click fraud. But there are common elements that can be identified on the statistics to indicate when it's happening:
A heavy concentration of clicks come from a certain geographical location (China, for example). This can be discovered through an examination of Internet Protocol (IP) addresses.
A large number of clicks doesn't translate into follow-through sales.
If specific ads are suddenly targeted, it raises red flags.
Be aware of the statistics on your ads - it's best to review them daily, or at least weekly, and watch closely for anomalies.
What To Do If your Business Is A Victim
Typically, if you notice sudden changes, talk to the advertising network, which will investigate. If evidence of click fraud is detected, in all likelihood you will not be charged (or if you've paid, your money will be refunded). With such a prevalent crime, it's in their interests to keep aggrieved customers happy.
There are filters that enable you to help detect possible fraud, and there's plenty of click fraud software on the market, of differing quality.
PPC is an advertising form that works. It can help your business. But, as with any aspect of business, you need to be very aware of what's happening. Take it very seriously - the big boys certainly have. In 2004 Google filed a lawsuit against an AdSense publisher, Auctions Expert International, claiming they generated fraudulent clicks on the programme. A year later Google itself was sued, when a class action suit was filed, charging the search engine with breach of contract and unfair business practices, as part of an attempt to hold PPC engines accountable.
You might also like...
I'm starting to publish ads in my weblog and it's good to know about security tips in theses cases. Thanks.
dowglasz
- 3-Apr-12 @ 3:18 PM