Sky TV Scam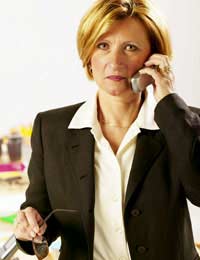 Many of us use Sky to get television. It offers a much greater choice than terrestrial TV or Freeview and there's often a much better picture, especially for those in areas where aerials don't work well. However, if you're a Sky subscriber, you should be aware of a scam that's going around which could well end up stealing your identity. So far it's only been recorded with Sky customers, but it could happen with any subscription service, like Virgin Media.
How It Works
It's a clever, two-part scams. It begins innocently enough with you receiving a pre-recorded call asking if you're a Sky subscriber. If you respond that you are, then the second part kicks in a week later – by which time you've probably forgotten all about the first call.
This time it's a live person on the other end of the line. He'll claim to be from the Sky billing department and claim that your subscription for the month hasn't been paid, and that unless you give your credit card details to be processed, your service will be suspended.
It can sound very plausible, and it's easy to fall for it – a number of people have done. But once you've passed those details over, they're not in the hands of Sky, but with the scammers who've tricked you.
How to Spot the Scam
The first giveaway is that someone would even call about a billing matter. According to Sky, anything like that would be handled in writing, and the same would be true for any subscription service of any kind.
The second red flag should be raised by the fact that your subscription hasn't been paid. The vast majority of people will pay their Sky bill (and many others) by Direct Debit, which is all automated. Think about the way you pay yours.
Can the person who calls quote your account number? If he can't give your name and account number, it's a certain indication that this is a fake call, however clever and slick the script might be.
How to Avoid the Scam
The first rule of thumb is to be very sceptical and distrusting when it comes to phone calls involving personal details and financial matters. Legitimate businesses simply don't call and ask for this kind of information – they'll already have it on file.If you receive a call like this, ask for a number where you can call them back. The chances are they won't give you one, but if they do (and, it has to be said, if they give a real number, that's very stupid), compare it against the number you have for Sky (you can also find the number online).
The simplest thing, perhaps, is simply to ask them to put the request in writing and send it to you – which is the proper procedure, of course. You won't hear from them again.
What To Do If You Think You've Been Scammed
Inform the card company, your bank and the credit reporting agencies immediately. Request a copy of your credit file, and ask the agencies to flag it, in case anyone tries to open a new account.
The best advice is simply to keep your wits about you. It's easy to be carried away by a phone call – they can seem official – and never give out information over the phone in a call you haven't initiated, and where you can be sure who you're speaking with.
Reader Caught Out...
Some of our readers have sent in their own experiences with a slight twist on the above scam:
The phone call I received from 'Sky' was to inform me, I am the account holder, that I am paying a little too much for our current package and offering to reduce it by £2.01 per month. The caller confirmed my name and address in order to confirm changes in writing and gave a 'new tech support number' of 08712 344644, then asked which bank I was with. He then 'quoted' the first 4 digits of my card and asked me for the remaining digits. I realised just in time that this was a likely scam call and refused to give details. I then contacted sky on their proper number who confirmed they would not do this, and I was not the 1st person to report this.
Another Version
I too received a phone call from someone claiminng to be from sky maintenance department, he too knew our name address and phone number, he wanted to know which system we were using and asked if we were having any problems with the picture etc. He said because we had not called out any engineer we were entitled to 10% off next year's premium, and if I would verify account details that payment is made from.
I told him that I didn't give those details over the phone and he stated that the details were deleted after I verified the account, I then told him my husband dealt with the sky account and he was working, although he was at home, and that he wouldn't be home until 8, he said he would phone back later. I then phoned sky to verify the call and they said they had received a few calls like mine. The number is 08719011500 they also gave me a word to use if I was reporting a fault so that no-one could use my account for maintenance.
Another Variation..
Another twist on the billng enquiry. I was called to be told that I had been paying too much repair cover and was being refunded £60 . I informed the person calling that I don't pay any cover and then he tried getting me to tell him the long number on the credit card. I refused but many might not.
You might also like...
Had two calls today from 01615242890 saying they were from Sky Maintenance. Advised me that I was paying Sky a hidden charge for maintenance. Worrying thing was that he called me by my first name and told me my full address including postcode. I tried to call Sky but it's impossible to get through to them. You can't email either and the website isn't helpful. I will try again tomorrow as this person said he is going to call me back and I'm concerned about the fact he knows all my details.
Another number for the same scam - 02045 869992
Ffoxxey
- 17-Jul-23 @ 10:26 AM
Just had a call from "Sky" obvs not the real sky offering me a cheaper package despite only arranging my first package with sky last week, it hasn't even been installed yet and they gave me the cheapest package when I arranged it according to my needs. Number was 08007613362
Bingogirl
- 6-Feb-23 @ 1:36 PM
I just received a call from someone saying from Sky not sure if it was genuine. Asked me for my address. Then my bank details, then my password for my account. Telephone number 0800 761 3362, didn't sound right so cut them off. Surely they would of had that info but found that call strange
Dia
- 2-Apr-22 @ 11:49 AM
I received a call from 'Sky' this week saying I had overpaid and was due a refund. This seemed fairly plausible as the day before I had telephoned Sky to cancel my subscription. When he asked date of birth I gave it but then he asked my card details for refund. I said as I paid by Direct Debit it could be refunded back to me that way. He then asked name of bank and I repeated my answer. He hung up. I rang Sky no record of them calling me so definitely a scam. Gave Sky the number he rang on but unless money had been taken no one interested. As I hadn't contacted Sky for 18 months seemed too much of a coincidence!!!!
Villager
- 10-Jun-21 @ 9:12 AM
Just received a call from Newport UK 01633489553. Allegedly Sky, telling me that I have problems with my Internet and it was to be deactivated in 4 days time. I told them to ring back and speak to my husband.She left a name Anna DeSouza. No Internet problems have been reported. So I'm guessing it's a scam.
Susan Smith
- 18-Nov-20 @ 12:12 PM
Just a had call from someone for thay for sky calling my my broadband but sky aways asked you got Security question first
Rouge1
- 31-Oct-20 @ 2:55 PM
Just had a call from 03450522989 recmy sky maintainance. Saying I was paying far to much a year. We agreed a password. She asked my last 4 fidgets from my card. I refused and asked her to forward details ,they knew my address telephone number and the amount I paid monthly to Sky. Phoned Sky lady said it was a scam. Asked me to contact Action Fraud UK and phoned them. That was a waste of time. So watch out this is a scam, her name was Jane. Very very convincing.
Titch
- 27-Oct-20 @ 1:21 PM
Just had a call from a very unsure SE Asian sounding woman who sounded as though she was in an exceptionally busy call centre- very difficult to make her out over background noise. Very unprofessional sounding and a very poor line Said she was from Sky and phoning about slow speeds,saidsomeone else was using my broadband. I asked how this could possibly happen on a secured network I challenged her saying that I thought this was a scam and she was repetitive and unsure and passed me to another female who assured me I would not have to give personal details. She asked me to go to a device I use - laptop was on and type RUN into search box... at this point I said I was convinced this was a scam and told them I was terminating call. They didn't call back thankfully.
Alimck
- 1-Oct-20 @ 4:52 PM
01822 751059 01875 979762 01848 695282 All in the past week.All claiming to be from Sky tech support. I just hang up.But it's getting really annoying!
Andy
- 22-Sep-20 @ 2:27 PM
I just received a call from 01846 261 362 saying they were from Sky, very unsure asian voice which sounded to come from a call centre but I was suspicious as he seemed nervous.Said there was broadband outage problems and could I log into my laptop and give him my IP address.I said I knew he was a scammer and he hung up.
caroline23red
- 10-Aug-20 @ 10:50 AM
I had a a man from abroad, indian I think, call me on my landline claiming to be from Sky, I was told my top box insurance was due and I needed to pay £99, by now I had suspected it was a scam/fraud call and put him on loudspeaker and recorded our conversation, he denied it was fraud, but when I asked him my name and address he said he didn't want to tell me!!! I ended up telling him that what he was doing to innocent people was evil, he hung up!
Jaybee
- 5-Aug-20 @ 11:12 PM
I've just had a phone call from a man claiming to be from sky telling me that he needs me to log into my computer so that he can help me set up my new router number as someone else is using my broadband in California. I'm in England. When I asked him again who he is, he got quite abrupt with me. I hung up up on him.
Amira
- 6-Jul-20 @ 2:30 PM
Just had phone call saying my sky broadband wasn't working correctly and could I go to my computer and log into sky There is nothing wrong with my broadband as can check it myself on sky go app.just ended phone call
Yak
- 29-Jun-20 @ 12:08 PM
I just had phone call but it was from my own number saying they were sending me new box as mine was out of date. The address they had I moved from ten years ago but when I said this they said it wasn't the bill department but technical!!!!
Sue
- 18-Mar-20 @ 11:09 AM
Just had a scam call regarding SKY.Man gave me a name, telephone No. and reference.Said that my signal was being interfered with.Gave me another IT reference No.He was foreign and completely plausible. I am 75 and he was talking non-stop and too fast.I finally hung up on him because he was overwhelming me and I could not understand him. I telephoned SKY and asked if they were having any problems and I was told they were not.This has really, really shaken me up - I have dementia and could easily have given him information.
Mow
- 18-Feb-20 @ 2:30 PM
Had a call from 01571981092 supposedly from sky. The man on the other end obviously of another country informed me that my broadband was running low. And if I turned on one of my devices he would take me through the process of speeding it up. I told him I wasn't prepared to do this and he became quite stroppy. I told him where to go and hung up on him. 2mins later he rang back and said if I didn't do what he asked then my broadband would be suspendedfor 75 days. His name was a giveaway as it was, Henry Wilson????
Sensei
- 14-Nov-19 @ 9:10 AM
Just had third phone call from 01604899316. Telling me I was due a refund of £205. I have never had sky. They gave a name and address of the previous owner of my number. I have had this number for 5 years.
Jane
- 11-Nov-19 @ 6:16 PM
We have just had the same thing happen. On speaking with the bank, they have stated that the scammer could set up Direct Debits and maybe standing orders. They cannot monitor your account for you, so you will now have to check your bank account every day to check for any new DDs or SOs. IMPORTANT NOTE: If you see any new/unusual items, if you try to cancel it (eg via your online banking), the money can still be taken, so please don't just do this and think you are safe! Contact the bank and they should be able to stop it on the day before any money is taken. You should also be covered by the direct debit indemnity. Please note, the bank stated that if money is taken you can get the money bank under the indemnity, but if you are seen as being negligent, you may not be covered for the return of the money.
Fred_UK
- 30-Oct-19 @ 1:37 PM
Had a call from 01582544397 saying it was Sky TV and that our current box was to be upgraded free of charge and when I said I didn't want to our subscription increased she said we would also get a new reduced deal for pensioners deal that they have just introduced. Wanted my DOB and bank account number and email address. Even though I was suspicious she was very plausible and I was taken in and gave one of our bank account numbers. Realised quickly afterwards it was a scam and have now reported this to our bank to flag up any unusual activity. Rang the number back and got an anonymous answering system asking me to put in an extension number so I entered 1234 and put the Psychiatric Aswerphone clip onto the voicemail! Apologies to the person who gets that if it was a genuine number being spoofed...
JohnG
- 19-Oct-19 @ 4:14 PM
I received a text msg stating that I had a refund of £1.12 and to click on the link provided which would take me to the sky team to confirm my bank details so that they could refund me my money.. I DID NOT REPLY BUT CAME TO THE SKY FRAUD TEAM TO REPORT THE SCAM.. BE AWARESTAY SAFE DONT GET SCAMMED Mickyladd.
Mickyladd
- 12-Sep-19 @ 6:30 PM
Just had a phone call from sky saying our 1 year anniversary with them was approaching, had a lovely gentlemen speak to me telling me all the things I can get off sky. The alarm bells rang when he asked me for my sort code and account number to set up insurance. I ended the conversation promptly and realised that he didn't actually say his name on the call as well, it is so easy to be scammed these days.
Bally
- 28-Aug-19 @ 1:45 PM
Just had a call from a person called Jane with an Indian accent that my sky cover was due to run out, and that there is 3 packages with a some of money depending on what i would like. I was on the house phone, so i was able ti google was this a scam. Sky would send out documents if the insurance/maintenance shortly. I said then i would wait for them firstly and then decide. She said ok and the line went dead. Number was 01273762452.
Ickle
- 28-Aug-19 @ 11:19 AM
Just had some one telling me that my Sky contact was ending and she can help me set a new one up. Told her that I didn't know what she was talking about and that I was terminating this call. Doubt she will call again! Asian sounding female and lots of noise in the background.
Malice
- 26-Aug-19 @ 1:42 PM
Just had a call. . I asked for his name. Location ID and what department. . He hung up. . 0114 number. Reported to sky. But they ain't interested. Not had sky for over 15 years.
Angry666
- 19-Jul-19 @ 6:28 PM
My parents received a text from Sky telling them that they had to change their email address and password they use for their account.
Just had call from and ethnic man named Joseph. Refund on my Sky account asking DOB gave completely wrongone he took it. Then asked for expiry date on card. Asked him why? As I do not have a Sky account. He then said we'll you must have a account with a TV company. OK pretty obvious scam. Trouble is he kept very calm and could be very convincing to anyone unaware.Hat
John
- 25-Jun-19 @ 6:12 PM
Call from " sky". My breakdown ! First clue GOOD AFTERNOONIt was 11 am Cover is ending.Buy now£150 for two years. Cannot pay direct debit. But one lump sum now.Pretended to be interested. Transferred to senior manager. Have me all the talk. Till I told her I don't have sky. And the line went dead. With that original operative called back.We lost you. what happened ??? Told her. I am not with sky.No apology just line goes dead I did call back on one number briefly.Greeted by man. "Hello sky".Sadly or not he got what mum would have called " a right gobfull ,. No swearing just the truth about them being criminals and fruadsters.
Cadbury
- 18-Jun-19 @ 11:31 AM
Just had a call from a person named Kelly who said she was from Sky maintenance and that my cover was about to expire. Said they were doing a deal on maintenance and quoted a price for a year, and larger discounted price for 3 years cover. Gave me a number for engineers of 03330090845 for any call out requirement. Then asked for my visa/mastercard details. I said I pay by direct debit. She then said you had to pay by card to get the discount. Obviously this confirmed my suspicions that this was a scam call so I said I wasn't prepared to pay on card. She then said she would make a note and then ended the call. The number she called from was 01273 030812.
jacques73
- 30-May-19 @ 1:57 PM
Call from 'Sky tv', we will change your box because we have had lots of complaints about it. Security check - what is your date of birth? OK because you are a pensioner we will reduce your subscription by 30%. Now just confirm your bank details so we can set up the new direct debit. Your new box will arrive on Saturday.
Norbs
- 23-May-19 @ 6:01 PM