Online Dating Fraud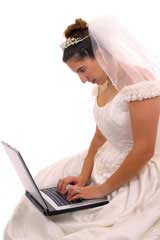 The Internet has taken romance global. That increases the possibilities for finding your soul mate, but it also makes love into a greater minefield. Not only are there the usual pitfalls of relationships, but you also have to deal with online dating fraud. No one can help with love, but some care can eliminate the other problems
The Types of Dating Fraud
You meet someone online, either in a chat room or through a dating site. You become close. They claim to be from Britain or America, working in Nigeria or elsewhere in Africa. They're paid in money orders, which they ask you to cash. You agree, deposit them in your bank and send the cash. A few weeks later you learn the money orders are forgeries, and you're responsible for the total. Meanwhile your lover has vanished.
Through a dating site you meet someone, possibly from Eastern Europe or Asia. After a while they want to visit you, but need money to get a visa. You send it, then more for other requests. Emergencies might mysteriously arise, necessitating even more money. You prospective lover eventually disappears, leaving you not only broken-hearted but poorer.
There are several variations on these themes, but generally they all involve people far away and requests for money, or to cash money orders. However, there are also the scams of the dating agencies themselves.
Less scrupulous sites will put up fake profiles. Contact them and you will receive e-mails, but the relationship won't go anywhere. They exist simply to make the site look bigger. Just before your subscription expires you might well receive a mail from someone supposedly interested in you. However, it's merely a ploy to make you renew. There have even been reports of employees taking subscribers out as a ploy to make them renew.
How To Fight Dating Fraud
When you meet someone online it's easy to get carried away. These simple rules might stop a lot of hurt.
Don't believe everything you're told. There are many genuine people looking for romance, but also plenty eager to take advantage. It's best to be sceptical; hopefully, you'll be pleasantly surprised later.
Ask for not just one photograph, but several. It's easy to obtain a fake picture, but several are much harder. If they don't have a picture, be extremely wary. Likewise if he or she looks like a model. In real life most people simply don't look that good.
Take things slowly, whatever your heart tells you. Look for inconsistencies in what they write. Don't be afraid to quiz them.
Try to talk to them on Instant Messenger, preferably voice chat or via webcam. Sadly, men sometimes masquerade as women. Talking to them and seeing them will assure you.
Ask for an address (not a P.O. box) and phone number. Call them. If they never answer and there's no voicemail, be extremely suspicious.
Under no circumstances agree to any financial services or send money.
Finding a reputable dating site might seem easy. After all, there are plenty out there. But a number are scams. These are the best ways to find a good one:
If they put up several "barriers" for clients, i.e. you have to write an essay about yourself and submit several photographs. This indicates they're taking the time to be sure the people online are real.
Begin with a short-term subscription, making sure you know how to cancel it. If you receive a flurry of interest just before it expires, don't believe it's all genuine.
What To Do If You've Been Scammed
If you've sent money to an individual abroad, the chances of recovering it are small. However, you can call Consumer Direct on 08454 04 05 06 for advice and to report the matter. Also tell the dating or chat room site where you met the person.
If you believe a dating site is acting illegally, don't renew your subscription. Instead, contact the Office of Fair Trading, supplying all the documentation that you have.
You might also like...
I stumbled across a dating site which was new at the time (2 years ago) called giggadate.It's said it was set up solely to clean up the "fake" dating site industry. I've followed it on and off now to see if it got big and although it has upgraded lots of times it hasn't caught on. I think the fact that every member has to verify their profile to prove they are real is what puts people off. If only a few people are willing to prove their authenticity then i think it speaks volumes about the way dating sites work! Also im astounded about how many websites i join and get messages from other members even when i have hardly filled out my profile and have no pictures uploaded. Who would message a half filled out basic profile with no images? what a surprise to find that the message cant be read without upgrading! lol its all a big scam. Giggadate is the least scammy site i have found.
datingsitesuccess
- 1-May-14 @ 11:19 AM
I used some very well know 'real' dating sites before and met people, and had relationships. So I tried a new site that was pay per message, called nostringsnow, which seemed great at first, regular replies and and conversations, but anytime you asked for an email or to swap details they would reply that they wanted to carry on through the site as they felt safer that way, or that they had just topped up to talk to you. In the end without realising you spend hundreds on messaging women, who actually never want to meet, and probably work in a cubical replying to lonley people trying to find people to beome friends with. The site, must be a scam, as worringly all 17 women I contacted got in touch were all attracted to me (I am no looker by any shakes) and then wanted to chat, but despite how detailed a message you send them you only ever get a few lines back and then have to send another, as they all ask to get to know you better, even after many messages they wont contact unless its on the site. I would say definately avoid, and has anyone else been bitten by this fairly new sit, or is it just I was very unlucky?
veryconned
- 24-Mar-14 @ 4:03 PM
My Son Met A Girl On A Dating Site , He Chatted On The Phone alot , It Turns out that he was on apremium line . He Now Has a Bill of three grand. , Orange still want the three grandhe owes . he is at uni and he is not working . .
unhappy dad
- 12-Feb-13 @ 10:15 PM
Dating scams are not always so obvious.I have heard about about a guy who meets women in facebook. He claims to be very spiritual and was very friendly and is very convincing.He gets close to women and tella so many sad tales of woe about his family and his lack of funds for education.He told one woman he was lonely and needed help and somehow over many minths he made out they were soul mates and he would tell her he loved her. She was persuaded into thinking she was the only one in his life who was important and she parted with over €12000. Over many months.He is known under various alias names. Samun Santosh, Sanju Khemani, Sanjoo Kheemany, Sammy Sanj, Sanj Kumar, Kumar Sanj and many others. He is believed to be pakistani, lives in London, Hampshire, Birmingham, Wales and sometimes Scotland. Please be wary.
Ms Philipine
- 30-Sep-12 @ 3:28 PM
The date agency uk does exactly that. One address was given as 500 yards from me I asked if they lived there and the address changed to another tiny village address.
grumps
- 26-Jul-12 @ 10:38 PM
I've tried Dating Sites and they are completely fake. They shouldn't be allowed to operate, Never been asked for money on them, they would be told where to go. And some of the blokes on there are well ugly and i think they fell out of the ugly tree on the way down. Most of them as well are married or just perverts, getting a kick out of being on these sites. And you can look on other sites and the men are the same. When you try and contact a person for help with your account, you never can actually to speak to anyone as most are in America. I would never ever use oneagain, they charge you a huge amount of money to use these sites. All i can say that they are DANGEROUS and should be Banned.
tigerlily
- 9-Jul-12 @ 7:43 AM
Suzki113 yes i would like to know more what happen , i feel like these dating sites ..there dont put up photos ..u have no idea who it is ...i have had some really rough experiences ...just wondering ???
wondering
- 7-Jul-12 @ 12:58 PM
I've just been left with a really nasty taste in my mouth, after over a week of constant contact with a "gentleman" on the Friends Reunited Dating website.Going by the Nickname of BH1933 we started contact initially on the site but he was soon very eager to swop to Skype and personal email, even exchanged mobile numbers, brilliant I thought someone that's actually serious.So off I go head in the clouds thinking I've finally met Mr Right who religiously skyed, emailed and text me.Things were going lovely, he lived not to far away then he was in the UK but worked in Kuwait in construction and buying and selling gold and there is where my first suspisions began.He wanted to return to the UK but had to employ the help of a third party to supply him with the paperwork to clear his gold interests, but this was going to cost £900 to get the paperwork off the agent and without it he could not leave Kuwait when he wanted to, he had no CC or internet banking as he had aparently been scammed out of some money when banking on line, and only had cash or travellers cheques non of which were enough to pay the £900. The alarm bells are now sounding loudly when he asked if I could advance him the £900 of just half of it, this went on right up until today when informed him I could not help needless to say all line of cummunication have gone dead. I still have the skype messages is anyone is interested and wonder how many women out there have actually been hit by this scam.
Suzki13
- 19-Jun-12 @ 4:16 PM
I've used dating sites for over 11 yrs and was beginning to think that I was paranoid but other people are reporting the same problems. The sites are full of false profiles. Sometimes I report 20 or more per night but I'm realising that it's the actual dating site people doing it. You see laots of similar profiles. To attract women they state the man is a widower, one child, degree level or higher educated. Hints at wealth / good job etc. Something needs to be done about these sites . It's highly organised.I'm sure our pics and info are used to bulk out sister sights in other countries as we're often asked for more pics. Or could it be a way of collecting info for I.D. fraud?
fed up with social s
- 20-Apr-12 @ 7:56 PM
have scammers moved to a different level?has anyone got the sense that whole sites are rigged?i live in england and there are a number of villages near to where I live with woman (21-28 years old) who are on-line all the time, who have been members for over a year, all looking for casual sex. they mail me, a 41 year old man. now this just seems incredulous. on top of that, why do such women exist in the villages but not the main city? it suggests that the sites have created phantom members, that the system generates phantom correspondence and the scam is paying money to a site that isnt connecting you with real people.any comments? any experiences?has anyone seem similar sites?has anyone seem articles about such?
freestylemark
- 20-Apr-12 @ 10:56 AM