Are Women More Likely to Fall for Online Scams?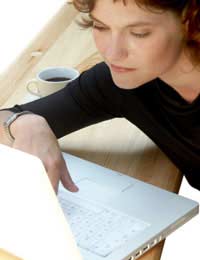 It's embarrassing news for professional women everywhere, but despite being Internet-savvy, intelligent and switched-on, a survey has shown that the people most likely to be caught out by increasingly more sophisticated Internet scams aren't older people or even immature teenagers – it's professional women between the ages of 25 and 34.
The survey was commissioned by a new online advice site called knowthenet.org.uk and it was designed to help advise consumers about the ways scammers target them online, and the best ways to avoid being caught out by their techniques. In order to be able to target the advice effectively, the site wanted to build up an accurate profile of the typical victim of this type of online scam.
How Was the Survey Carried Out?
The survey, which involved more than 2000 online consumers, was undertaken by online security experts on behalf of the advice site. The participants were given scenarios that were designed to test their ability to detect and respond in the correct way to seven different common online scam scenarios.
The tests covered situations such as spotting a fake Facebook page, dodgy competition scams or whether they could spot if they were being offered counterfeit goods online.
What Happened?
Of the seven tests that were carried out, the vast majority were more likely to be fallen for by women. In six of the seven, women scored worse than men, and it was the 25-34 age group that was most likely to fall foul of three out of them.
As expected, though, the most gullible consumers changed according to the type of scam scenario that was being tested. Where people were being asked to send money to help someone in trouble, it was more likely to be men that fell for the tale – 53 per cent of people failing this task were male.
How Big is the Problem?
Online scams and frauds affect more of us than you might think. Most of us will know somebody who has been affected, and according to figures released by the National Fraud Authority in January 2010, around 1.8 million people in the UK are believed to be caught out every year, at a cost to the economy of around £2.7bn. Women spend slightly more time, on average, online, than men so the problem is more likely to affect women while they surf, chat and buy online.
Peter Wood, security expert at knowthenet.org.uk, said that part of the problem was the escalating deviousness of online scammers who constantly change the way they work in order to reflect what Internet users expect or want to see.
Ha added that some of their latest techniques include things like 'pharming' which works by redirecting your browser so that while you may think you're typing in a legitimate website address, you're actually being sent off to a bogus site that looks just like the site you thought you wanted. Because it looks exactly the same as the original, you're not suspicious and will think nothing of typing in your personal and financial details.
On top of this survey, further research by Harris Interactive has revealed that people who regularly share files illegally have found themselves unwittingly exposed to sexually explicit or offensive content by accident, and more than two in five people using them have unsuspectingly downloaded viruses. The research was published by internet safety charity Childnet International, which has launched a new guide called, 'Music, Film, TV and the Internet' to raise awareness of some of the implications of using illegal file-sharing sites. The guide also gives helpful information about safety and security risks of downloading music and films illegally.
You might also like...
I think I was almost scammed by somebody asking for 83.50 to fix the 4000 infections my computer has. Seemed genuine enough as they even showed me where and when over the last 3 years these infections have happened. It just so happens that my laptop hasnt been logging off correctly intermittently for the last two weeks so I was sucked in nearly, if it hadnt been for the fact they were asking for over £50 I would have been there! Trouble is what esle do they now have that I dont know about?
tony the agent
- 21-Dec-12 @ 7:38 PM
I have been duped into giving £200.00 to someone who telephoned saying they were working for Micorsoft Eng. and my computer was sending them error messages I still have all the details from them. but none of the things they put on my computer works what should I do now.
Sue
- 28-Nov-11 @ 2:02 PM
well i have just typed my details in lets hpe it's not a scam site! yes there should be more awareness of these scams ,i very nearly entered one but then the alarm bells rang when they asked fora £75 :00 fee it was avery legit looking site claiming to be a courier service i made contact withsome of the guy'swho fallen foul of it and they were really cross with themselves but it fooled them so yes scams of any nature should be exposed.
sj
- 25-Jul-11 @ 11:25 PM