Pyramid Schemes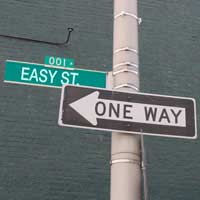 Pyramid schemes are old cons, but these days they're all over the Internet. According to a report released by the F.B.I. and the National White Collar Crime Center in the U.S., they're the fifth most common type of Internet scam.
The invitation comes in a spam e-mail, offering the opportunity to quickly make a lot of money simply by recruiting people, or sending a small amount to someone, which will add your name to a list (the chain letter). Although the terms multi-level marketing (MLM) and pyramid schemes are sometimes used interchangeably, you should be aware that there's a difference between them.
What is Multi-Level Marketing?
Multi Level Marketing is a perfectly valid, legal and effective way of distributing product to the end user or customer. That's the difference between MLM and pyramid schemes - there's a product and a customer. You develop your sales organisation, and derive part of the profits of those working under you. There are start-up costs, such as developing an inventory, but real companies won't encourage stockpiling. Although most people won't make much, it is possible to earn good money with MLM, with enough time, effort and talent.
What is a Pyramid Scheme?
Pyramid selling in illegal in Britain. That hasn't deterred people, however. There may be a product involved, but if so it's usually something with no demand. The essence is the service and recruiting. You pay to join, and recruit other people, keeping a percentage of their joining fee.
What pyramid schemes stress is that you can get rich quickly, doing no work. Those at the top might make money, but if you do, it will only be a small amount. A pyramid scheme has to keep growing to make money. As soon as that stops (be it dies to falling off of members or investigation by the Department of Trade and Industry), it dies.
How to Recognise a Pyramid Scheme
Pyramid schemes can often disguise themselves well. But they share several characteristics. The following will give a good idea whether it's a pyramid or a genuine MLM opportunity.
Does the product or service you are selling have an actual value? Is there a demand for it, and would you be willing to pay the price charged for the product or service if it were sold on its own?
Does the program focus on the actual sale of the product or service, or on recruiting of new people into the programme?
Is there a substantial start-up cost - do you have to pay to join or purchase a high-priced inventory
Do they promise enormous earnings or claim to sell "miracle" products?
How to Avoid Being Scammed
The most basic advice is to do nothing rashly. Investigate any and all claims before you make a decision and part with your money. Looking out for the following can help you avoid being scammed:
Beware of pressure tactics, and demands to sign a contract.
Ask for references. Not just a couple, who might be shills, but several.
Don't invest just because you know someone who has. They might easily be an unwitting victim.
Ask for hard evidence to back up claims of quick wealth.
Check out the product thoroughly.
Determine whether the company will buy back your inventory.
Get all promises in writing. Make sure the company has a valid address (not a P.O. box) and a landline number.
If You've Been Scammed
Report the crime to both the police and the Department of Trade and Industry. Turn over copies of all your notes regarding contacts, phone conversations and e-mails. Sadly, the chances of recouping your money are slight, but you might help bring the criminals to justice.
You might also like...
@ALARMED. It's not one we've come across but we will investigate it when we can. Thanks for pointing it out.
SafeFromScams
- 6-Oct-14 @ 12:26 PM
There is one that seems to be quite big in America. It's called iPAS2. It's difficult to research as they are cleverly named. Whenever you type in their name for a search, iPAD comes up. Does anyone know about these people? Are they a typical pyramid scam?
ALARMED
- 3-Oct-14 @ 4:51 PM