Auto-Dialling Scam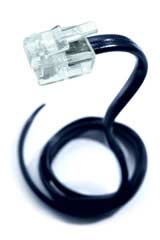 In 2004 Ireland was forced to block calls to 13 countries because customers ran up huge bills connecting to the Internet. How did that happen? It was all because of an auto-dialling fraud (also known as an international modem scam) where modems were hijacked. Instead of placing calls to their local Internet service providers, instead they were calling places as far away as Chad, Mauritania or the Cook Islands in the South Pacific.
How It Works
It's a complex fraud. The perpetrator has to install software on the computer (usually piggybacked on a piece of software downloaded from the Net). The software then reconfigures the modem, so that instead of making a local call, it dials an expensive foreign number. Part of the fee from that call is siphoned off by the criminal. In small numbers it doesn't make much of an income. But increase that figure and it becomes a hefty piece of change. However, please note that it can only affect you if you have a phone line plugged into your computer. Broadband users are safe.
How To Make Sure It doesn't Happen To You
It can be enticing to many people to find a site offering free pornography. But you might find that, to access it, you need to download a small piece of software. Agree, and a short while later you find yourself disconnected briefly from the Net. What you don't realise is that, when your modem reconnects, you're now calling a number in a distant country and running up a large phone bill. Unfortunately, you've just been scammed.
The auto-dialling scam can also happen on game sites and music download sites, anywhere the promise of something for free draws people. You can find it in pop-up ads. On top of that, the software has also been sent in e-mail attachments. If opened they will reconfigure your modem. So how do you keep yourself from being a victim?
Disconnect all dial-up connections when you're not using them, and delete any dialler programmes that you might have downloaded.
Don't download any software unless you trust the source completely. If you decide you want to proceed, make sure you read and understand the user agreement thoroughly before clicking "OK."
Kids can inadvertently download diallers. Supervise their Internet activities closely. Talk to them, and impress on them that they should never download anything or click on a pop-up ad without consulting you first.
Use a firewall, correctly set up, as well as a good anti-virus programme that you update regularly. Scan your computer often - daily is best, but weekly will do.
If a dialogue box appears on your computer showing that it's dialling and you hadn't instructed it to, cancel it and make sure you close the connection. Check what number is being dialled and proceed only if it's the correct local number. Make sure the sound is activated on your modem, and be familiar with it. If you hear it unexpectedly, investigate.
Those who are computer savvy can disable ActiveX or change Web browser settings to provide a warning when ActiveX code attempts to run.
You might also consider switching to broadband, whether DSL or cable.
A number of anti-spyware programmes, such as Spybot and Microsoft Defender can be very effective in finding and removing the auto-diallers. Install good spyware on your computer (check first to see if the brand you choose works in this field), keep it updated, and scan regularly.
What To Do If You've Been Scammed
You might even realise you've been scammed until you receive a heart-stoppingly large phone bill.
Contact both your ISP and your telephone service provider immediately. Your ISP can put a block on the number that's being dialled from the computer. In terms of your bill, legally you might well have to pay it in full, since you probably clicked "Yes" on a user agreement when you downloaded the auto-dialler. However, some phone providers might well be willing to work out a deal on a one-time basis.
You also need to remove the dialler as soon as possible. According to some experts, the quickest way is through using Spybot, available for free download. That one is known to work, although other similar programmes might do the job. If you're not confident about your abilities to do this, take it in and let a professional remove the dialler.
Modem hijacking is a nasty scam, there's no doubt about that, and one that can deliver an awful surprise to people. Follow the advice here, though, and use your common sense, and you should be safe from it.
You might also like...