Losing it all at the ATM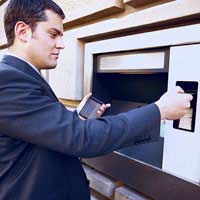 In a relatively short time we've come to rely heavily on ATMs, those holes in the wall that can dispense cash 24 hours a day. The days when you had to hope the bank was still open or try to cash a cheque somewhere are history - in fact, more and more places don't even accept cheques now.
But as we use cash points more, the scammers have come up with tricks and cons to take advantage of that. Some are very sophisticated, using machinery and hi-tech devices. Others, though, are quite crude and primitive, like peeking over someone's shoulder as they type in a PIN number.
One, though, is about as basic as you can get.
How It Works
You're at the cash machine. You've typed in your PIN, removed your card, and the cash is just coming out. There's someone behind you, almost always a man. As you're busy counting the money you've just received, he tapes you on the shoulder and says, "I think you dropped this," and holds up a £10 note.
Flustered, you begin to reach for it and thank him. Then, out of nowhere, another man comes and grabs your cash and debit card, and the pair of them run off before you can react.
You've lost your money and your card. The latter you can replace, but the former you can't, and the chances of them ever being caught are slight. Meanwhile, at the very least, you're shaken up emotionally, and quite possibly physically, too.
It's just like a smash and grab raid, and in most cases will only bring them a few pounds; the most you can take out of a machine in any one day is £300, anyway. Unless they work hard, they're not going to get rich from it.
How to Prevent It
Whenever you use a cash machine, you need to be alert, especially if it's dark or there are very few people around. You should always check the machine, in case any devices have been attached (to be fair, some of them are so good that you'll never know), and if possible, always use machines in well-lit places, that are attached to bank buildings.
If others are waiting behind you, shield the keyboard with your body so no one can see your PIN. Cover the keys with your free hand too, as an extra security measure.
When you're getting your cash, put it and the card straight into your purse, wallet or pocket, as soon as you've checked that you've taken it all. Making sure the amount is fine is all well and good, but if there's a problem you can't resolve it with the machine anyway! If someone tries to interrupt you, don't be distracted until the cash and card are out of sight. That will discourage robbers - they want an easy target, not to have to tussle for the money.
If You're a Victim
If you've been a victim of this, unfortunately there's not a lot you can do. You have to report it to the police, of course, since it's a robbery, and you also need to inform your bank as soon as possible that your card has been stolen, telling them when and where. They will issue a replacement, and if your card has been used illegally in the meantime, you should not be charged for it.
You might also like...