Cheque Scams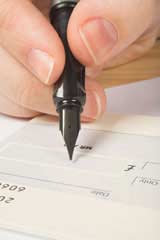 A cheque has always seemed to be a very proper form of payment for goods and services. We write them and receive them, put them in the bank, and assume that because it's written on a piece of paper, the money is really there. But cheques are as susceptible to scams as anything else, and cheque fraud keeps rising. In the first six months of 2004, for example, it rose 50% over the same period on the previous year, costing a staggering £24.3 million.
How Cheque Scams Work
There's more than one type of cheque scam. It can be as simple as a cheque drawn on an account that no longer exists, or one where the writer knows there are insufficient funds to cover the cheque. You won't find out for a few days, until it's gone through the clearing system and has been returned to your bank. By then you might have dispatched the goods for which you'd been paid.
There are also forged cheques and bankers' drafts, in which the original amount of the cheque has been altered (this is similar to the advanced-fee fraud, or Nigerian scam). You'll be overpaid for an item or service with the forged cheque, and asked to give the writer the overage. You do so, only to discover several days later that you're a victim.
Perhaps the most typical scam is the stolen chequebook. Once stolen, cheques are written on the account, and the holder might not know until receiving a phone call from the bank about the activity, trying to withdraw money only to find none remains, or until he receives his monthly statement.
How To Avoid Being A Victim
Don't accept a cheque or bankers' draft as payment unless it's from someone you know well and trust. Be especially careful if the cheque is for a high-ticket item.
If you're selling a high-value item, insist on Internet or telephone banking instead of a cheque. Another alternative is to use CHAPS. You have to pay (or can arrange to split costs with the other party), but it's very secure, and payment is same-day, rather than the usual clearing period.
If you choose to accept a cheque, insist on waiting until it's fully cleared and you're sure the money is legitimately in your account.
Keep your own chequebook in a safe place and report any missing cheques to your bank immediately. Always check your bank statements thoroughly.
What To Do If You're A Victim Of Cheque Fraud
Contact your bank and the police immediately. If your chequebook has been stolen, your bank will refund you the amount. However, if you've accepted a fraudulent cheque or money order, your bank is likely to reclaim the funds.
How Long Does A Cheque Take To Clear?
Generally, a U.K. cheque takes three days to clear, not counting weekends or bank holidays. On the day it's paid into an account it's sent to the bank's clearing centre. The second day it's sent, electronically and physically to the drawer's bank, and on the third day the money is debited from the drawer's account. However, if the drawer's bank is unable to pay the amount (e.g. insufficient funds) it will be returned by first-class post to the collecting bank, which will not receive it until the fourth of fifth day. So, if you accept a cheque, allow five full working days for it to clear.
You might also like...
@andrew perigo How did that work out in the end? I have just received something very similar regarding a car I'm selling. "I'll pay your asking price plus a transport logistics fee [what?] and my mover will pick it up" - given the "buyer" doesn't even know what my asking price is, I think it's got to be a scam.....
Dubious
- 15-Oct-14 @ 4:56 PM
@Andrew Perigo - keep the campervan safe. Tell him you will inform him when the cheque has cleared. Once the cheque has cleared (maybe even transfer the money to another account to keep it ultra safe), ask him for his full name and address so you can complete your part of the Vehicle Registration Document. If that all goes smoothly then it's probably OK. Arrange for him to collect it and give him a receipt etc. Good luck
simplesimon
- 3-Jun-14 @ 9:46 AM
My campervan is on autotrader. An email sent to me saying i will send a cheque for the full amount plus shipping fees. Once cheque has cleared let me know and my guy will pick it up...Never seen camper, no contact number just a name..Thomas Hernandas..
andrew perigo
- 2-Jun-14 @ 9:19 PM
I have received a similar kind of cheque! i work at a hotel and ive been sent £1800 for a week in my hotel which was for £450, he wants me to pay his travel agent with the rest (not going to happen). The banks address is 9 Prescot street, london.This happens to be residential accomodation.If you phone your local police station and hand it in there they will follow it up as much as possible.but do not ever cash the cheque as you may be investigated for fraud if it is a stolen cheque. The one i have here is completely fake, it has no perforated edge (bit dodgy) it is larger than a standard cheque (exactly 1/3 of a page of A4, with a little skimmed off one edge to make it look perforated) , it comes from the Ukraine but from an (supposed) English bank, it is made out from bradford and bingley, which changed its name to santander last year, it is for exactly 4 times what it would cost for a week, It is signed by someone called Rosemary Thorne (a very Ukranian name if you ask me), plus the cheque is dated 30/09/2011 and was posted on 03/11/2011 over a month later, and for some reason 2 different banks are named on the cheque, 1 is part of santander and one is part of the cooperative bank group. This is just too suspect.but at least they got a real bank sort code on the cheque! Lol this will get handed into the police with transcripts of the emails I have received although I know they can do nothing as no fraudulent activity has gone on because the cheque has not been cashed. Its easy to spot a forgery if you have a real cheque there but if not ask around and look for trends e.g. size of the cheque in comparison to A4 (should be 1 inch or so shorther than the width of A4), perforated edge, if there is an address type it onto google streetmap, check the sort code on the net and whatever you do DO NOT CASH IT!
banana
- 10-Nov-11 @ 11:50 AM
I received a cheque issued on an HSBC Account "RS Morgan & RJ Goode Joint LPA Receivers of 24 Wood End Gardens". I am quite sure that this cheque is part of an advanced-fee fraud (2050 Euros required for a holiday rental in France and the amount of the received cheque of £8700). I have the scan of this cheque and I did not cash it. I want to know if there is a UK address (email or phone) to report that or to check if the cheque is stolen or fake. HSBC bank is not helpful in this matter. Also it is quite impossible to find the address of RS Morgan & RJ Goode.
Frenchy
- 19-Aug-11 @ 1:25 PM
How do you know if a cheque is real or not?
Moo
- 30-Mar-11 @ 5:13 PM