Credit Repair Scam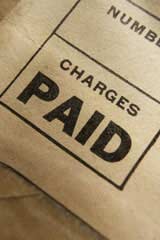 With consumer lending and spending at an all-time high, it's not surprising that people end up in debt. Even if you're perfectly solvent, you've almost certainly received spam e-mail offering to quickly repair your credit. For those who are desperate, it can seem like a lifeline. But it's really a scam. There are no steps a company can legally take to repair your credit that you can't take yourself.
How It Works
The plain and simple truth is that it doesn't work; it can't work. What the credit repairers offer to do is boost your credit scores (making you more eligible for loans) and remove county court judgements from your credit file. They offer guarantees that their programme will give you good credit. They may even offer you a loan - in many instances that's the ultimate aim.
How To Identify A Credit Repair Scam
Look at the source. If it came from a spam e-mail, don't trust it, period.
What exactly are they offering? If they say they'll be able to erase your bad credit history, don't believe a word. If you have bad credit, there are steps that can be taken, but nothing will happen instantly.
Do they ask for an upfront fee? No proper organisation will.
If they suggest supplying false information on a credit application, don't listen. This is a crime and you can be prosecuted for it.
Are they offering a loan? On the surface it might seem tempting, but be very, very careful. Read the terms and you'll probably see that the interest rates are outrageous, and the repayment plan probably impossible.
If you encounter any of the above, walk away. It will not repair your credit. In fact it could land you much deeper in debt or in court.
Steps You Can Take To Repair your Credit Rating
One of the best ways to start is by requesting the booklet "No Credit?" from the Office of the Data Protection Commissioner.
Order a copy of your credit file. There are three credit reference agencies in the U.K - Equifax, Experian and Call Credit. You can obtain a copy of your file for £2. Don't be afraid to challenge entries you think are wrong. Amendments can be made to a file, erasing incorrect information, or a note added to the file stating why you believe it's incorrect.
Identify your debts and take steps to pay them. Many lenders are amenable to working out payment plans, and there are legitimate credit counselling agencies. Your Citizens' Advice Bureau can help you find one.
If you've had a county court judgment against you and paid within a month, it should be removed from the court records and credit files (however, the history of the debt may not be deleted from your credit file).
Judgments paid after a month can be marked "satisfied" after you apply to the court for a certificate of satisfaction. The court will then pass the information to the credit reference agency. If you believe information of a judgment is incorrect, the court can give you guidance on having it changed.
Consider bankruptcy only as a final resort, and then only after legal consultation.
Being in debt is unpleasant, and being deep in debt can be a nightmare. But you can take steps to bring it all under control and clear the amounts you owe. It won't be easy, and it won't happen in a month. Don't believe anyone who tells you otherwise.
You might also like...