Bank Charge Scam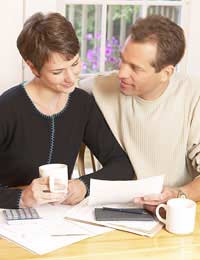 Most scams are perpetrated by criminals who want your money. But the banks want your money too, and there are times when they might be taking it from you illegally. If you've ever gone into overdraft without permission or had a bounced cheque, there's a very good chance that you've been a victim. It's estimated that excessive bank charges for these events net the top banks a total of around £4.5 billion a year - not exactly spare change.
How It Works
If your current account becomes overdrawn without authorisation - for example, if a direct debit goes out before your pay goes in - or you exceed your overdraft limit, you'll find that the bank charges you. Under the terms of the contract you agreed with them by opening your account, they have the right to do so, just as they can if you write a cheque that bounces.
That's not news to any of us, nor is the amount they charge, which is generally more than £20. But that, however, is where the problem occurs. Legally, the bank can charge you for the costs they incur when you broke the contract by going into the red. However, under the Unfair Terms in Consumer Contracts Regulations 1999, they're not allowed to charge you a penalty, which is classed as excessive damages. When you consider that the actual costs they incur run at around £4.50, you can see the discrepancy.
What To Do About It
The first thing to do is establish what you've paid in excessive charges to the banks over the last several years. You can simply ask the bank for all the charges you've paid, including the date and what the charge was for. Legally, you can claim for excessive charges going back six years. Make your request in writing, citing the Data Protection Act, and also enquire if there's a form you have to complete, and if so, ask them to supply it. They can charge up to £10 for providing the information you need, but they have to supply it in 40 days.
You could also go back through your statements, and if you don't have them, request them from your bank. From these you can establish what you've paid in excessive charges.
The next step is to ask for a refund of the excessive charges, making sure you've calculated them properly. Write to the bank, state how much you feel you're owed, and why. Make sure you keep a copy of your letter, and keep notes on any calls you make to follow up about its receipt. If you've had no written response within a fortnight, ring them.
It's not uncommon to receive a procrastinating reply offering a response at a later date, or stating you can't claim back these charges. In both instances, write back, insisting on a response within two weeks, with the threat of further action.
Legal Action
If the bank doesn't refund the excessive charges (if they offer to pay just part of the charges, refuse), you have the option of taking them to county court. It's not as daunting as it sounds. You simply have to fill out a form and file it with the court. If you're claiming less than £5000 back from the bank (and it will be very rare it'll exceed this amount), your case will almost certainly be put on the small claims track.
Once the court sends the bank a copy of your filing, they have two weeks to respond. After filing, it's well worth taking the precaution of opening a second account with another bank, and switch any loans from the bank you're claiming against.
What Next
If the bank chooses to enter a defence, they'll be granted another fortnight to prepare their case. However, if they don't acknowledge the filing, you'll win your case by default.
In the event they do enter a defence, then you'll have to fill out a court allocation questionnaire. This is quite straightforward, so complete it, sending copies both to the court and the bank.
Historically, the banks might take you to the brink of court action, but in most cases won't go to court. They may offer a full settlement, or simply not show up for the court date. However, there's no guarantee on this, so it's best to assume they'll mount a defence. Prepare your case, and have your paperwork ready to illustrate the excessive charges you've had to pay.
After Court
In most instances, the bank will pay you without a problem. That's not inevitably the case, however, but if they refuse to pay, you do have a legal recourse. You'll need to fill out form N323. Once that's been granted by the court, you're legally allowed to send bailiffs into the bank to take goods equal in value to your claim.
Of course, the solution to all of this is to make sure you don't go into overdraft without authorisation, or don't exceed your overdraft limit. But when that's not possible, be aware of your legal rights to reclaim excessive charges.
You might also like...