Property Scam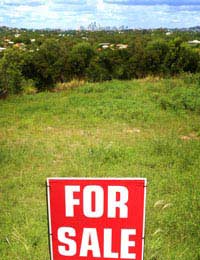 It's tempting to think that we can get rich quickly, that there's a short cut to wealth. After all, others seem to manage it, and the property market has always seemed a good way to accumulate money. But it's a market open for scamming, with people ready to exploit the get-rich-quick dreams of many.
How It Works
You might get a brochure in the mail, offering you a course on how to become a property millionaire. It's glossy, expensively produced, and it looks as if you could make some money. So you pay and take the course. At the end of it, you're introduced to an investment in some land for development.
It seems a good prospect, and so you invest some, maybe all, of your hard-earned savings. What you don't know is that the land is either agricultural or derelict. In many cases it is unsuitable for development, or is bound to have planning permission refused. Obviously, the people running the course and taking your investment know that, and also that you'll never see your money again.
It's become a widespread scam. In 2003, 381 companies were shut down who were doing business - scamming - people this way.
How To Avoid The Scam
Be very way of any and all mail solicitations, no matter how good they look. Check out the company first. Do they have a proper street address and landline number?
Ask questions about the course. Ask for references of people who've taken it and talk to them - not just one or two, but several. After all, you're spending money to do this.
Never make investments without plenty of research. Find out where the land is. Look at it before you part with your money. Ask questions locally about its history. Discover whether planning permission has been applied for or granted. If not, what are the prospects of planning permission?
Don't invest until you see detailed plans for the development of the site.
What To Do If You're A Victim
Contact the police. Fraud is a serious crime.
Contact the Office of Fair Trading
Contact the Financial Services Authority
In all cases make sure you have copies of all paperwork about the transactions and the course, as well as notes of any phone conversations. Whilst the company might well be shut down, the chances of getting your money back aren't that high, unfortunately.
You might also like...