Offshore Investment Scam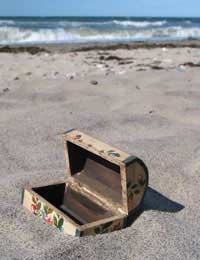 Offshore investments have long been touted as a way to get a better return on your money and also pay less tax. In plenty of cases that can be true. But there are also many scam artists out there ready to take your money with the promise of high-return offshore investments that are simply fakes.
How It Works
It might start with a spam e-mail, or even a recommendation from a friend. The claims are that you can earn a spectacularly high return on your money, with little or no risk, in offshore investments. That means, too, that you don't have to pay high tax. There are several variations, ranging from helping to form an offshore bank (the type where criminals launder money and personal details aren't divulged) to the perpetrator boasting of high-level connections.
It all sounds very plausible. You might be in your late thirties or early forties, looking to build your nest egg of savings for retirement (the most common victims of this scam). You read the brochures; you might even attend a seminar about it with other potential investors.
Everything looks good, so you write a cheque for upwards of £10,000 and take great pleasure in reading the quarterly statements and seeing how your savings are increasing. It might even make you dream of early retirement.
There probably is an offshore investment. But the money that you turned over to the company to invest has ended up in the name of the crooks that are reaping the profits. The statements you're sent, that look so official, are worthless paper. When they've lured in enough people, the statements will cease arriving, and when you call, the phone will be disconnected.
How To Avoid The Scam
Ask yourself why such a scheme would be touted on e-mail spam if it was so good.
Remember that there's no such thing as a high return on an investment without a high risk.
Don't believe whatever you're told. Investigate the claims and the company. Are they registered in the country where they claim to be based? Who are the directors?
How exactly does the investment claim to make its money? Always make sure you fully understand the workings first.
Have everything vetted by an independent professional, an accountant or financial advisor. Take legal documents to a lawyer before signing.
Never let yourself be pressured into signing a contract at a presentation.
Can you withdraw your money easily and quickly?
Make sure you know the legal and tax position on offshore investments.
Think twice, then think again before investing any of your money! Make absolutely certain the company you're dealing with is legitimate.
What To Do If You're A Victim
Inform both the police and the Financial Services Authority. Make sure you have copies of all the paperwork about the transaction, as well as written notes of any phone conversations, including dates and times.
Unfortunately, if the perpetrators are really based overseas (and most are), it makes recovering your money much more difficult. Sadly, there's a very good chance you'll never see you money again, which means that you should never invest more than you can truly afford to lose, especially in something supposedly offering high returns.
You might also like...
The Top Paying HYIP - I invested $10,000 and Received $900,000 after 24 hours .Big Profits. http://goo.gl/36O7n
fgdsh
- 8-Apr-13 @ 2:41 PM