Fake Tax Experts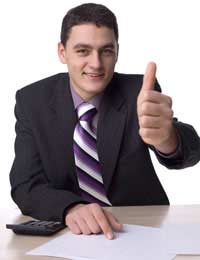 Everywhere you look, whenever tax time approaches people come out of the woodwork offering advice about your taxes. The problem is that anyone can claim to be an expert and suggest doing this or that. But how do you know who to trust? Who's real and knowledgeable, and who's just trying to sound good – in other words, a fake?
The Real Experts
The true experts make their careers in finance, specialising in taxes. That means accountants, for instance, whose livelihood comes directly from knowing the ins and outs of the Tax Code and its changes from year to year. A good accountant can save you far more than you'll spend on his or her services.
Financial advisors can also be excellent resources. Although they go far beyond just taxes, they can offer very sound advice that benefits you directly. Like accountants, they're highly qualified, and they're also well regulated.
Newspaper Columnists
Newspapers have something for everyone, including advice on managing your money, and part of that is dealing with taxes. However, columns tend to be of a one-size-fits-all variety. That means what they suggest might be fine for some people, but a particular idea might not fits other people, making it useless. The advice you need has to apply directly to your situation – to be personal.
The same applies to financial sites online. Again, they can be very informed, but the content will still be generalised, and might not fit in your case. The moral is that you shouldn't believe everything you read. It might be right – but it might not be right for you.
The "Experts"
Although there are definite limits on those who can offer financial services, and they need the appropriate licences and qualifications, you'll still find plenty of people offering tax advice. They advertise online, in the local papers, have cards in the Post Office or newsagents. But can you trust them?
That they know something is beyond doubt – you have to in order to wade through things, as anyone who's spent days filling out a tax return can testify. Some will offer services in person, others online. Remember, though, a little knowledge can be a dangerous thing – it can even be a scam.
What you need to do, before anything else, is to establish that they are qualified experts. After all, not only will you be relying on them, a move that could end up costing you dear with HMRC (not to mention the fee you pay the "expert"), you're also giving them a lot of private information about yourself, something that can leave you wide open for identity theft.
Ask questions about their background, what makes them an expert, and for references of others who've used their services. Be especially dubious of those who make big claims upfront that they can save you hundreds on your taxes – without knowing your situation, there's absolutely no way to back that up.
Avoiding The Fakes
Talk to family and friends to see if they've consulted any experts, and what the results have been – is there someone they can recommend (or, conversely, to whom they'd give a very wide berth)? Word of mouth can be worth a great deal.
Approaching things with a cynical attitude is no bad thing. Until you're convinced otherwise, believe that most experts are fakes. It might well prove to be a case of better safe than sorry.
The safest course is to go to the proven experts, the accountants and financial advisors. It might cost you more initially than the fakes, but the long term savings will be much, much more – and you'll avoid those awkward problems with HMRC, too.
You might also like...