Career Opportunity Scam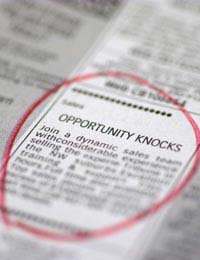 At one time or another we've all considered a change in career, a completely different type of job or employment. Maybe you've wanted to become an inventor or try and make a living as a writer, for instance.
It's possible, although the odds are against it, that you can make a living from either career. You can look into all types of jobs and training – but one thing you need to be aware of are the number of career opportunity scams out there.
It's the kind of scam that preys on the idea that people might want to fulfil their dreams and better themselves. With over three million people a year in this country falling victim to scams, there are plenty of victims, and statistics show that the career opportunity scam seems to find more female victims than male (63% of women who had been scam victims had fallen for it) – this scam is a very serious business.
How The Career Opportunity Scam Works
You want to do something different. You might have an idea for an invention or have written a book. You might be looking to start a business that will let you make extra money or create an independent income.
The scam is an ad. It might offer that business opportunity, self-employment that lets you work your own hours and earn a high income – it could be a franchise or as a representative or associate of a company with an exclusive territory. Or it could be a company offering to market your invention or publish your book.
Whatever the offer, the ads all have one thing in common, although you won't know it until you find out more – they all require cash upfront. That's cash you'll never see again, and the opportunities, if they even exist, will all come to nothing.
How To Avoid The Career Opportunity Scam
The simplest way to avoid the career opportunity scam – and many scams, for that matter – is to simply not believe what you read. What they offer is a variation on the advance fee fraud. Before you part with any money, you need to know a lot more about the company. Do they have a landline? Is there a street address? Do they have satisfied customers you can contact? If not, walk away – quickly.
The more questions you ask, the more you'll know – and a real scam will be revealed very quickly. Ask advice of people you know and trust before committing to any kind of employment or job where you have to pay for something – a franchise or materials – upfront. That advice might not always be perfect, but it should stop you acting rashly. Don't agree to become a representative, associate, or whatever term they use, if it costs you money. Be wary.
If there are promises of how much money you can make from what amounts to a few hours work a week, don't believe a word until it's proven. Being a doubting Thomas can only be a good thing when it comes to parting with your money – it can save you a lot of grief and financial pain later on from the scams.
What To Do If You're A Victim Of A Career Opportunity Scam
If you've parted with your money for this scam and received nothing useful in return, the chances of you seeing your cash again are saddeningly slim. Those behind the scam will have handily disappeared, or at least you'll have no way to get hold of them. You can inform the Office of Fair Trading, Consumer Direct and the police. They'll help, where possible, but all too often the trail will stop dead.
You might also like...
I got a appointment letter from this hotel for work permit visa as a waiter job pls check it out and i am waiting for reply..
meraj
- 9-Sep-13 @ 3:42 PM
They just rung me, hung up asoon as they knew I wasn't giving them any dolla!!! B******s
Sarah :)
- 10-Jun-11 @ 4:25 PM