Small Business Scam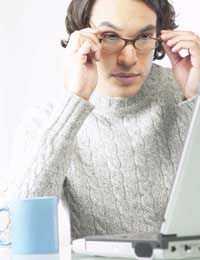 Not long ago a photographer received an e-mail enquiry about recording a wedding and reception. The person making the request purported to be from the U.K. and working in New Zealand for a construction company, and used a relatively anonymous ISP.
The photographer responded with price, and also offered the service of another company that could transfer everything onto DVD. At that point the man making the request not only acceded quickly, but even offered another £100 to the fee. In his e-mail, however, he requested full contact information for the photographer (for the second time), although much of the information was already on the photographer's web site.
Was this the start of a scam?
How To Tell If It's A Scam
In his original e-mail the man claimed to be from the U.K. However, his English was hardly that of someone who'd grown up here. Instead, it was rather twisted and convoluted, at times almost nonsensical, and very badly spelt.
The second important factor was his insistence on all contact details, although these could easily have been obtained from the web site. The photographer believed the man was next going to ask for bank details in order to pay via the BACS system.
Lastly, no retail service expects to be offered over the odds for work they normally do. This wasn't a rush job, there was no reason for it. Instead it was perhaps intended as an appeal to greed, and an incentive to hand over the details the man wanted.
In other words, this has all the hallmarks of a scam similar to e-mails saying you've won a foreign lottery, phishing, or that someone in Nigeria wants to process millions through your bank account and you get to keep a percentage. The difference is that this one seems to be targeting small businesses.
What To Do About It
Most small business embrace e-mail enquiries as a way of obtaining business, and even if the request seems bizarrely written, it can be difficult to sort the wheat from the chaff. At that stage, it was hard to know if this was legitimate or not, although it did raise suspicions by its odd wording, as well it should.
Even if you have just a small business, you need to be aware that you're a target for scammers; a business identity, especially that of a sole trader, can easily be stolen. Be extremely wary of giving out financial details to potential customers. It's remarkable how much damage scammers can wreak with just a little information.
If you believe the request is genuine, however odd it seems, insist on payment well in advance, by cheque. Don't just leave time for the cheque to clear, but more time after, in case it's returned - which can often happen with scams, leaving you not only without your money but also owing bank fees. Only then should you proceed.
What To Do If you're A Victim
If you've been unlucky enough to be taken in this way, you need to talk not only to the police, but also to the FSA, the Financial Services Authority. However, the chances of getting your money back are, sadly, very small.
The simplest, and best, thing to do is to keep a healthily cynical attitude. It might be unfortunate that you have to do that, but it will protect you in the long run.
Small business scam, fsa, identity theft, victim, photographer, wedding DVD, e-mail, phishing, bacs, ispA new scam is targeting small, sole trader, businesses, ferring work, but in reality an avenue to identity theft.
You might also like...
Received a call from an Indian lady who was difficult to understand saying I had been overcharged by Sky and was due a refund of £202. She then asked for my DOB which I refused to give and ended the call as I knew it was a Scam as Sky would not refund someone who was not their customer would they. Beware you will be bleed try this scam. GC
I was also conned and like a fool I fell for it as they gave me the first 4 numbers of my bank account so I did think that Sky was calling. I've now had £17.50 removed from my bank. The company was Sat Assist. So beware.
Jimmy J
- 12-Jun-13 @ 2:53 PM
I was contacted by a well spoken person telling me my Sky subscription was being reduced from £22.50/mth to £20.25/mth. In order to process this he needed to to know my bank card number but insisted not to give him my sort code, acc. no. or the last 3 digits of my security code. Regretfully, I gave him my card number only to find approx. a week later my account had been withdrawn by £7 and days later a service confirmation statement arrived in the post from UK Digital Satellite confirming agreement to a maintenance contract. I tried contacting UK Digital Satellite but they do not answer my calls. My bank told me this a scam and are issuing a new card. The b******s are using Sky as a front for the scam and are gaining access to my Sky account for my subscription details. I am in ongoing contact with sky and the have told me they are removing my details from their list so that I will be getting no further cold calls, but how did the conman unlawfully access my subscription details without Sky knowing. Sky are fairly laid back on this matter. WJ Barham
Billy
- 13-May-12 @ 8:29 PM