Business Identity Theft: What is it and How Can I Avoid It?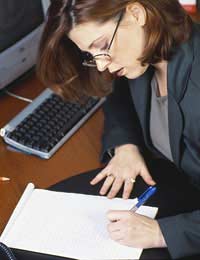 We've all heard the scare stories about identity theft – sales of home shredding machines have risen since the issues have been highlighted, and we're all getting savvier about protecting our personal data, passwords and important documents. But how does this advice translate to businesses?
What is Business Identity Theft?
Business Identity theft is exactly the same in essence as personal identity theft, although in some cases the amounts of fraud involved can understandably be that much higher. A Business Identity Theft happens when scammers get hold of enough information about you and/or your business to be able take on your business identity and use it to get hold of credit, goods and services. It's a widespread fraud and one that all small businesses (and large ones) need to be sure that they take steps to avoid.
Personal Information Security
To scam-proof your business, it's vital to set a security policy that's adhered to at all times by yourself and your employees. Have a set of strict guidelines in place that set out the types of personal information that must never be revealed, especially by e-mail or electronic communication.
Basic rules include:
Always keep the personal details of employees or the businesses financial details out of emails.
Be suspicious of any e-mails from sources you don't recognise – and have a good spam filter in place.
Never open attachments, or click links in e-mails from people you don't know.
Make sure that you report any suspicious emails to the appropriate authorities - Trading Standards, Business Link or in some cases the police.
If a fraudster can get hold of enough information about your business, they could obtain a corporate credit or debit card and spend your money without you knowing about it – so all of these measures are vital parts of your staff training.
Company Hijacking Scams
In recent years, scammers have worked out how to get hold of complete corporate identities – the scam is called' company hijacking' and it's a serious fraud which is said to cost an estimated £50 million a year. The reason that fraudsters manage to get hold of this information is because businesses are able to get forms from Companies House that change important details about a business, including the registered address, the company secretary or director.
As you can imagine, if this happens to your business it can lead to some pretty horrendous problems, when the newly appointed 'directors' of your business apply to open new bank accounts, run up overdrafts and credit in your business name, or have goods delivered to the 'new' business address. It can leave your business with debts, and a ruined credit rating.
There is a way that this sort of scam can be avoided, and that's by using the Companies House Protected Online Filing (PROOF) electronic filing scheme. You can find out more information about this from the Companies House website.Frighteningly, Companies House says of the 500,000 paper documents each month, around 50 are fraudulent. They simply don't have the manpower to be able to check every change of personnel or address with the previous company secretary, so when these forms are lodged, even by fraudsters, they are taken at face value.
The Latest Business Identity Scam
As if that didn't make it hard enough, it's also been reported that recently scammers have been calling businesses, posing as officials from Companies House to ask them to verify their passwords. As any Internet savvy individual knows, you much never ever give out password details over the telephone, and no reputable organisation would ever ask you to do so. The same applies if you receive an e-mail asking you to 'log in' to the site using a link contained in the e-mail. This is Phishing and is exactly the same as the Phishing e-mails that are sent from bogus banks asking you to log in.
Companies House state that they never contact companies by telephone asking for passwords or similar information.
You might also like...