Call-Tag Scam and Re-Shippers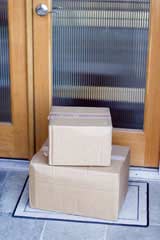 Although most new scams are simply variants on old ones, the Internet age and global communication has brought fresh ideas to crime. In 2005 the call-tag scam began to emerge again after a period lying fallow.
Six of the top online retailers have been victims, and in America it's reached such a level that the Merchant Risk Council has been working with retailers to combat it. A variant on the call-tag is the re-shipper scam that has been working for a few years.
How They Work
With the call-tag scam, criminals use stolen credit card information and purchase goods online to be sent to the legitimate cardholder. When the criminal receives the tracking information via email, he calls the cardholder, identifying himself as the merchant that shipped the goods. He claims the item was shipped in error, and asks permission to pick it up upon receipt. Then the criminal arranges for a different courier to pickup with a "call tag" - a step called "skipping" carriers, to avoid suspicion, and often using a stolen corporate account. The second courier is an innocent party, dispatching the goods to the criminal. Nothing comes to light until the cardholder sees an unauthorised charge in his card and complains to his credit card company.
Re-shippers exploit innocent parties to ship goods abroad using stolen credit cards. They recruit their victims via dating sites (the "Nigerian" version), job postings (the "Russian" version) or e-mail spam (the "Chinese" version). Items are bought online with the stolen cards and shipped to the victim. The criminal then sends address labels to re-ship the goods to his home address via a courier. Once they've gone, the criminal ends all communication. Often the victim discovers that the re-shipping account has been started in their name, and they face a huge bill.
How To Prevent The Scam
With a call-tag scam, the first notification a victim has is when the criminal calls, claiming to be a merchant who's sent the goods in error. And since all the information is credible and verifiable, it's usually impossible to stop before it happens. However, you can help to eliminate it:
Ask for a phone number to call the "merchant" back. Check it to make sure it's real.
Don't agree to have the item picked up by a courier. Inform them you will deliver it to the courier office yourself, and ask for their account number. A legitimate company will supply it.
Scrutinize your credit card statement carefully, and challenge any suspicious charges.
Re-shippers exploit those looking for something, be it romance, jobs, or business opportunities. But you can safeguard yourself.
Be wary of any online offers, be they romantic, employment or business.
If you receive a request to ship goods, refuse.
Don't allow yourself to be pressured into agreement.
If you should agree to re-ship, be absolutely certain who is responsible for the bill first. Contact the courier and make sure.
If you're suspicious, contact the police.
What To Do If You're Scammed
The losers with call-tag scams are merchants. Given the sharp rise in this type of crime, they've been taking steps to actively track down the perpetrators. When they contact you, give your full co-operation. It's in the interests of merchants, couriers and consumers to track down the criminals.
If you're the victim of a re-shipper, you can try contacting the courier, supplying all the documentation you have. Sadly, if the account was opened in your name, you might still have to pay shipping charges. But some shippers are willing to work with you if you can prove you've been scammed, especially if you can provide information that helps them catch the perpetrator.
You might also like...
Registered for their mailbox to store our parcels for forwarding to uk customers. he gave 2 addresses for sending shipment one is pobox15113 Birmingham B2 2NJ another one is 7 oldwareham road ,BH16 6AQ,UK. as usual we have sent 44 parcels. each contains product worth 2 thousands pounds. whenever parcelforce came to deliver my parcels he did not receive those. when I notified him the matter after 2 days he replied to collect those I have to pay 250 pounds. ok I paid him.Then when he came to knew that my products are valuable and costly that time he started to make more excuse for having more profit from us. that time it seemed unreasonable and I contacted parcelforce directly initiated an account with them so they could hold it for us. in between the time while I was setting up parcelforce account he used to ask me every day a few times when I will pay when I will pay. he started telling lie that parcelforce has been putting pressure on him (what is actually lie) no reason to put him pressure infact manager was directly communicating with me. then at last our 44 parcels has been returned to the hongkong address. and we faced a big loss. ok still we did not charge him for his dam care mentality and not giving importance to clients matter. he did not even know that those were sent back I did not know it myself either. on 12th may he has been constantly asking for money this time he included more money 700 pounds + vat payable to custom. Vat and everything I have paid on 1st day when those parcels arrived in uk outbond. However as we have decided not to use his service for this purpose , I informed him we set up parcelforce client account so nothing to pay him for. when he knew he instantly suspended my account I had product worth 96 thousand pounds what he withheld and started to blame me I am fraud blah blah. We tried to be patient and tried to convience him saying we want positive solution he has started ignoring our calls. and says he has handover all my parcel to police. without my permission how can he give it to police? my parcels have been already checked by parcelforce. so those are not illegal anymore. when we asked where did go our existing balance we had 230 pounds and also our box. he said for receiving 44 parcels my account is in -300 pounds balance. then we asked what for the charges? he said then I violated rule thats why I have to pay. ok then again 2 days later when we have been emailing him one after another he then said for not telling him truth he charged me this. lol and also send me his bank info and said if I pay then he will avoid further actions against us. if we dont pay him more then he will do blah blah. how greedy think ! never use their service. they are robbers. I filed police case. and hopefully issue warrant against him on monday 23rd may 2011. hope he gets arrested and pay me full refund of my product and my cash worth 200 thousand GB pounds.
ukpostbox.com scamme
- 20-May-11 @ 5:40 PM