Business Loan Offer: Are We Being Scammed?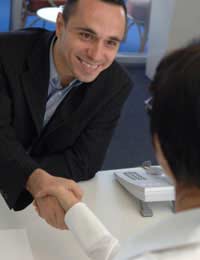 Q.
My business partner and I have been seeking investment for our business for around 20 months now and the other day, whilst in London, we met a man (by chance) who claimed he may be able to help us. He said he had a company who offers 'loans' to other companies; the loans are made from his companies profits and paid back over a 10 year period. This apparently enables his company to avoid paying tax on profits.
The man said he would give us a loan of £250k over 10 years, what is more, the loan would be interest free. However, to get the money we need to pay him 9k for fees etc. Do you think we are being scammed??
(A.J, 6 July 2009)

A.
It's possible that this man is terribly altruistic and wants to help small companies. However, he's probably also making quite a reasonable return on an investment of £250k, while being somewhat murky on tax responsibilities – that's assuming everything is legitimate.
The question to ask yourself is why this man would want to help you. He obviously doesn't know you, yet he's willing to loan you a quarter of a million pounds – not huge financing in business terms, but still a tidy sum. Obviously you've tried the usual places for money, and with things being tight due to the credit crunch, had no luck. So you're more than willing to think outside the box – and then, by a stroke of chance (or good fortune) you happen to meet this man who can help - and you won't even have to pay any interest! Look at it that way, and it seems too good to be true, doesn't it?
That's really the secret with a scam – if it seems too good to be true, then it probably is. When you really want something – in this case, the financing – and someone finally offers it to you, the inclination is to simply to grab for it and not ask yourself questions about it.
In this case it's worth wondering who he's helped in the past (and talking to them), what precautions he's taking to ensure he doesn't lose his money in case your company goes out of business for one reason or another, and exactly what's in these forms and so on that are going to cost £9,000 upfront.
You need a close look at all the paperwork, and you should run it by your lawyer, just as you would with anything associated with the business. You also need to investigate this generous businessman. Who is he, exactly, and what does his company do that it can afford to make these loans?
As said, it could be that he's perfectly above board, and you've run into a miraculous benefactor. But somehow it just doesn't seem right, especially that £9k in "fees" that need to be paid before anything happens. Tread very warily and double check everything before you hand over any money and sign anything.
You might also like...