Charity Scams: Household Collections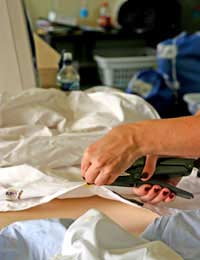 It's happened to almost everyone. There's a flyer through your door, or someone leaves a plastic bag. They're asking for household donations, anything from clothes to electrical items, which will be picked up, and you have the impression that your old goods are going to charity. But are they?
How It Works
The operator sends out flyers or donation bags to houses in a certain area. They often claim to be working with charities, even quoting a registration number.
The typical types of statements used include, 'Homeless Eastern European People With Low Incomes Need Your Help', 'A Work Creation Project' or 'Recycle Your Unwanted Items'.
On the collection day a van comes around and collects the items, which are then sorted and re-sold - for the profit of the company, not a charity.
It might not be the biggest scam in the world. But according to the Association of Charity Shops, it's still worth over one million pounds a year. Far worse is the fact that the money you believed might help others is going into someone's pocket.
How To Avoid Being A Victim
If you're not sure whether the bag or flyer is from a real charity - the registration number you're given could actually be of a company, not a charity, or it's frequently just random numbers with no meaning, except to suggest an official licence - you can take the following steps:
Contact the Charity Commission helpline to see if the organisation is a registered charity.
Contact their local authority to see if the collector has been licensed.
Give directly to the charity of your choice, whether it's money or goods. Most have their own charity shops. They can happily arrange for you to receive a collection sack, which will not only have the registered charity number, but in many cases will also bear the Association of Charity Shops logo.
How To Report A Fake Charity
The Control of Misleading Advertising Regulations, passed in 1988, is directly concerned with this type of scam. If you discover someone trying to perpetrate it, you can do these things:
Call your local Trading Standards Officer, who will begin investigating. The Trading Standards Office will prosecute those who break the law. They can also issue a public alert about the fake charity. You can find your nearest Trading Standards Office by entering your postcode on their home page www.tradingstandards.gov.uk.
Write to the Charity Commissioner to report the incident:Charity Commission Direct
PO Box 1227
Liverpool
L69 3UG

They should follow up.
Both the Office of Fair Trading and the Charity Commission take these crimes very seriously. Not only does it deprive the charity shops of a good slice of income, but a lack of public confidence in charities can seriously affect future giving.
You might also like...
I am concerned about a charity collection bag from "Helping our Soldiers". Not a registered charity, only a mobile phone number. How can this sort of thing be stopped.
Waryone
- 6-Aug-14 @ 12:01 PM