Charity Donation Scams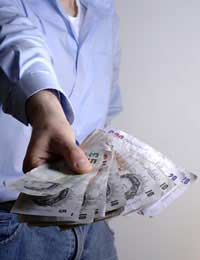 People are often generous in the way they give to charity, especially after a global disaster. But charities and charity appeals offer plenty of opportunities for scammers. In the way of the tsunami in 2004, for example, there were plenty of fake solicitations that cost the real victims millions of pounds.
How They Work
E-mail Solicitations
These days a spam e-mail solicitation from a charity is the most common type of fraud. In the wake of a natural disaster you might receive an e-mail about an "urgent appeal" for aid. The name of the supposed charity might be very similar to that of an established and familiar one - enough to confuse. To give, you're directed to a web site that looks professional, and you donate by credit card. Unfortunately, it's all fake, and instead of helping the victims, you've not only given money to crooks, you've also given them your personal and financial details. A variation on this is asking you to phone a premium rate number to donate, with the assurance that all proceeds will go to charity.
Never trust an e-mail solicitation. Always check with the Charity Commission before giving, to ensure the charity is real. Never donate by credit card. If you feel you've been scammed, contact the credit reference agency and have a fraud alert placed on your file. Buy a copy of your credit file and challenge any inconsistencies. In the case of the premium number, much the same applies. The only difference is that, sadly, you're being stung twice, not only on the donation, but also the cost of the call.
Collection Boxes
You might be enjoying a quiet evening in the pub, when a couple of people come in with collection boxes, claiming they're raising money for charity. In fact, they may well be part of an organised scam. They target certain cities, the collectors going out in pairs to pubs. At the end of the night they meet up and split the money between collectors and the gang.
Be wary about giving like this, especially in pubs. Ask to see identification. Determine what the charity is, and where the money's going. In most cases a few questions will scare them away. Pub landlords should be especially wary of this type of collection.
The Giving Envelope
You find an envelope pushed through your letter box or left on your door, asking you to donate to a charity. It seems legitimate enough, with a name and address, and after all, they've gone to the expense of printing it up. So you write a cheque or put in some cash and return it.
Never donate without research. Is the charity registered with the Charity Commission?
Remember, charities do depend on contributions to do their good work. You owe it both to yourself and to them to investigate before you donate to make sure your money is really going to a good cause.
You might also like...
Recently in newcastle , Northumberland street there were WWF 'Save the Tiger ' collectors on the street. I donated 5 pounds using my mobile which was then followed up by a phone call asking for a regular commitment. I am now wondering if I did the right thing.
How do I expose a Horse Rescue Scam? A couple have set up a Horse Rescue site. Great website, BUT it is all a con. They are convincing people that they will find good homes for their old pet horses. Most of these people have to let go of their horses mainly due to the cost of keeping them. This couple are telling the owners of these horses they vet and find good homes for their beloved pet. What is actually happening they are selling them on to anyone who has enough money to buy them under a different name. They are asking for donations and in some quarters advertising that they are a Charity. Three of these horses have now gone for slaughter. Surely they are breaking some law?
Spooky
- 6-May-11 @ 2:26 PM