Scammers Who Cash in on Disasters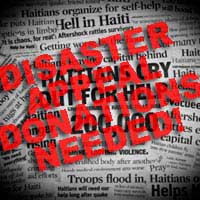 If there's a disaster in the news you can bet that not far behind there will be a scammer waiting to cash in on people's good nature and sympathy. No respecters of decorum, your average scam merchant will have no shame when it comes to trying to divert funds from legitimate disaster funds into their own pockets.
So, if you want to give money to a disaster fund, be very careful about who you give it to.
Well Known Disaster Scams
Believe it or not, after September 11, 2001 there was a glut of disaster scams which included e-mails asking for money from donations to help track down Osama Bin Laden, and even worse, money for the families of fire fighters who died in the attacks.
The Tsunami
In 2004 tsunami led to people being scammed out of parting with money to bogus agencies who claimed to be able to track down loved ones who had gone missing in the disaster.
Hurricane Katrina
Hurricane Katrina scams included charity fraud schemes purporting to be raising money for victims of the hurricane which was in fact doing no such thing.
It's a shame that people have to be wary of what could on the face of things be genuine offers to help people in need. Sadly, not everyone is as altruistic as the people who actually want to donate money, so beware the scam when the disaster fund emails come round.
Disaster Scams and Technology
Days after the 9/11 terrorist attacks, the Internet was awash with fraudulent websites and spam emails claiming to be from the Red cross...only, it wasn't the Red Cross at all. Things had moved on by the time Hurricane Katrina and the earthquake disaster in Haiti hit - this was the domain of the text appeal for cash. It wasn't uncommon for people to be contacted after responding to one of these text solicitations with a request for their bank details...and you can imagine what happened next.
The most recent addition to the stable of 'ways to scam kind people out of their money' is the social networking site. An advert or 'group' can easily be posted by scammers who are pretending to be charities trying to solicit donations through Facebook and other sites. Be very wary of this type of group.
If you're a Twitter fan, even Twitter is not immune to scams. It was claimed that after the Haiti earthquake, American Airlines was flying doctors and nurses out to Haiti free of charge but donations were welcome. It seems that nowhere online is safe from scams.
How to Spot a Scam
Urgent demands for cash from out of the blue. Most genuine charities have many ways at their disposal to appeal for your help. Don't be fooled by a spam email or text. If you want to donate through the Red Cross, find their official website and do so that way. The large disaster find organisations flood the media after an event like the tsunami or a hurricane, so you have no excuse for not knowing their genuine website or phone details.
Ask them lots of questions. A genuine disaster fund will be able to tell you all about the disaster, where the funds that they are raising will be directed, who employs the fundraisers, Gift Aid, how long the organisation has been in existence and the percentage of the donation that will go to the victims. If the representative is evasive (in person or on the telephone) avoid them.
You might also like...