EBay Escrow Scams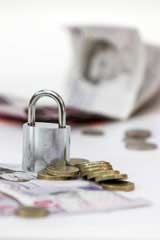 The use of escrow has become more common for high-ticket items on EBay, whether for a laptop or a car. It acts as a safeguard for both buyer and seller. The buyer is certain that he's getting exactly what he's thought, and the seller has the money safely paid before shipping the goods. But, inevitably, with the rise of escrow as a service, there have been a number of EBay escrow scams.
How Escrow Works
You win an auction for, let's say, a laptop costing £500. You want to be certain that it's everything the seller advertised before giving him your money. So you agree to use an escrow service, establishing your conditions, such as who pays shipping and length of inspection period, beforehand. You deposit the money with the escrow company, and once the seller is notified that the cash is there, he sends you the item, which is tracked by the escrow company, to be signed for on delivery. On receipt and acceptance of the item, you inform the escrow company, and the money is released to the seller. In theory, it's a safe, win-win situation.
How Escrow Scams Work
The scam is the fake escrow company. You win an auction, and the seller suggests an unknown escrow company (there is only one recommended by EBay). You send them your money, and never receive the promised item or find it's a cheap substitute. By then the escrow company, the seller and your money have vanished. Or, if you're the seller, the escrow company informs you they have the money, and you dispatch the item. But the company vanishes, along with the seller and your item.
How To Identify Fake Escrow Companies
Be aware that neither Paypal nor Western Union are escrow services. They are simply ways of delivering money to the other party. If the other party insists on using them, refuse.
Do a search on the escrow service's web site. A legitimate company will have a large number of search results. Fakes will have one or two, or even none.
A legitimate escrow site is secure. That means not only does it have SSL certification, indicated by the locked padlock at the bottom of the screen, but the web address will begin https:// rather than just http://.
Make sure the escrow company has both a street address and a landline number listed on their site.
A real escrow company will only ask you to transfer money to them directly from your bank, i.e. a traceable transfer. If they ask for another method, refuse. Before you send, verify with your bank where the receiving bank is located. If outside the seller's country, halt the transaction.
Don't deal with any escrow company that has a hyphen in its name. The odds are that they're a fake. Also steer clear of any company which doesn't use a .com suffix, such as .biz, for the same reasons. And just because the name seems associated with a legitimate company don't assume everything is above board.
Just because an escrow web site looks professional, that doesn't mean the company is sound.
A 'Verisign Secure Site' logo (or any other similar logo) shouldn't be taken at face value. Investigate to make sure they are truly licensees of the organisation.
No proper escrow service would ask you to send either your money or item to the other party.
How To Avoid The Scam
Use only escrow services recommended by EBay.
Never us an escrow service recommended by the other party, period.
Be sceptical. According to one source, the odds are one in nine against you finding a legitimate online escrow service.
Don't deal with an escrow company that's been in business for less than four years. Investigate their legitimacy, and don't believe any claims - from anyone - that you can't verify independently.
Only deal with sellers who have amassed good, verifiable feedback (don't necessarily believe all feedback claims without investigation).
If you're sending an item, make sure that the recipient has to sign for it.
What To Do If You're A Victim
Inform EBay immediately. You should also contact the police and the Office of Fair Trading, including copies of all the paperwork. Sadly, the odds of restitution are small unless you used an escrow service recommended by EBay itself.
People do use escrow every day on EBay without any problems. You can too, if you follow the guidelines above. Check and double-check before you commit, use your common sense, and you should be fine.
You might also like...