Concert Ticket Scam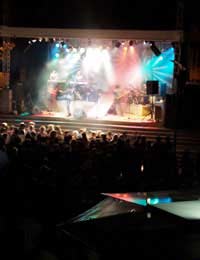 In 2006 there was a brief flurry on the TV news and in the papers about fake concert tickets. A momentary fuss was raised, and a lot of people were shown to be out of pocket. Then the reporters moved on to fresher items, and many people probably assumed it was over.
However, it hadn't. Many people had spent hundreds of pounds for tickets that had never arrived, and in many cases had no hope of retrieving the money. There have been no stories of prosecutions, and in April 2007, the Daily Mirror printed a story that one of the problematic companies, Ticket Tout Ltd., which went bankrupt reportedly owing well over a million pounds to its customers, had started up again under the name Londonticketmarket.com - which, in spite of its name, was based in Cyprus.
How the Scam Works
You might want tickets for a show by a very popular act, but can't get through to buy them. Or they might have been sold out for weeks and you want to go, especially if you can get great seats.
For a price well over that which the tickets had originally sold for, these companies claimed they could get you those seats. They had tickets available. However, after you'd paid - and the bill could run into hundreds for the tickets alone, apart from any hotels you might need to book - the tickets didn't' arrive.
Calls to the company would sometimes go unanswered or, depending on which company, there would be claims of problems. Sometimes the phone number would be in a different country, in some instances as far away as Hungary.
Where there were excuses, they'd continue, and the tickets still wouldn't arrive. Often there'd be claims that a company representative would meet customers outside the venue. But, of course, no one would ever arrive.
How to Avoid the Scam
The simplest way to avoid the scam is not to use ticket agencies like these. Buy only from official agencies. However, realistically speaking, that's not always possible. But before paying well over the odds for tickets, investigate the company. Where is their office? Do they have a landline number in this country? These should be listed on their website, and the address should be a proper street address, not a P.O. Box.
Take the time to check these things. Run a web search to see if there's any adverse criticism of the company. Look around to see what other tickets for the show are on offer by other companies - you might find them much cheaper elsewhere. If one company is offering plentiful tickets although the concert is sold out, be very suspicious. If you do decide to buy, purchase with a credit card. That way, in the event you're scammed, you'll have a better chance of recouping your money.
Only purchase from a site that offers encrypted payment. You'll know because the site will show a closed padlock at the bottom of the payment page and the URL (web address) at the top of the browser window should begin https:// rather than http://, the "s" meaning secure. Before you purchase, be very clear on refunds in case the event is cancelled, how and when the tickets will be delivered, and what seats you're buying.
Also, be very way of buying tickets for concerts at online auction sites. All too often these are scams and you'll never receive your tickets.
Spotting Fake Tickets
Fake tickets are certainly common enough, especially for big events. The problem can be telling the real from the counterfeit. But as ticket companies make their products more and more complex to foil the fakers, it has become a little easier. They employ techniques like holograms and foil printing. But unless you know what the real ticket looks like, that's not a great deal of help to you.
A good rule of thumb is not to buy from touts and to be very wary of tickets offered for sale in online auctions. If possible, see a real ticket before purchasing elsewhere, so you have a basis of comparison.
Check the back of the ticket – these will usually contains the terms and conditions. Printing throughout should be crisp and clear. Be aware of any special features on the ticket, such as a hologram or watermark and check before buying.
Some promoters use bar codes; however, these are easily copied. Thermal printing is another item to look for. It's quite distinctive and not easily duplicated. In some cases, like Glastonbury, the promoter has gone to the length of having the purchaser's picture embedded in the card.
As with many things, taking time to research a little can save you not only money (tickets for sold-out events and festivals can change hands for ridiculous sums), but a great deal of heartbreak.
If You've Been a Victim
Sadly, if you're a victim, there's very little recourse. If you've paid by credit card and spent over £100, you should be able to get your money back, although it might prove to be a lengthy process. Otherwise, if you paid by Switch, for example, your chances of seeing the money again are slim.
You can report the company to Trading Standards, who can take action towards closing down the company if there are numerous complaints. If the company is still trading and is based in the UK, you can take them to small claims court to try and reclaim your money.
You might also like...
2012 and the scams continue. Every month you read about it in the papers. The problem is that the police, or whoever, seems to take no real interest in shutting the fake agencies down. I feel sorry for the people who lose hundreds of pounds on these things, because they'll never get their money back. Until there's a concerted crackdown nothing is going to change.
Jane T
- 23-Jun-12 @ 6:08 AM
CITYTICKETSERVICE SCAM i bought £45 tickets from this company for the Red Hot Chillies at the NEC on 19 November 2011. I bought them in July and paid £75 per ticket. the delivery was to be 14 days before. 1 week out, no tickets and contact made. assurances given. 3 days out , more contact made and directly asked whether it was a scam as we needed to know if we were to cancel our hotel without having to pay. Assurances given and agreement made to post the tickets direct to hotel. 2 days out, one day out and on day of concert, more contact made and eventually he suggested that if he would get a 'friend' to phone me and meet me in Birmingham to hand over the tickets (City tickets is a London company). No contact made, no tickets received and no refund given. I am £150 down on the tickets, £112 down on the hotel and £85 down on petrol with a very distressed wife. Very very angry.
DAVID BOWDEN
- 22-Nov-11 @ 8:04 AM
we have been conned from TICKET INDEX.NET for our take that tickets, they have told us they were to be delivered last sat, then mon, then weds, thurs but they never arrived, also they told us each time the tickets had been dispached, then ooh they havnt been dispached and they have, havnt etc, then they would ring us and they never did and said they said they were deffinatley being delevered, but we have not recieved them so have had to buy more for take that on sat, we were going on the openeing night tom fri 27th, just a warning to everyone,
miechelle
- 26-May-11 @ 9:20 PM