Slimming Products Scams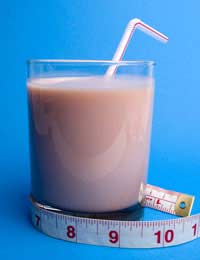 To those eager to lose weight, every new item and diet offers promise. There are plenty of people eager to take advantage of the desire to be slim, and plenty of them are scammers. It's a lucrative market - the amount spent in slimming products is forecast to be £6.6 billion is 2006 - and that means you need to proceed carefully when shopping for slimming aids.
How They Work
The claims are always extravagant, such as 'Eat everything you want, cakes, chips, chocolate, crisps etc. and lose weight.' Or the advertisement promises an approximate weight loss of 'between 4 and 5 lbs a week'. There's even been the slimming soap from Japan that claimed to "wash away fat in seconds."
The ads usually appear in your e-mail as spam, or perhaps in a piece of post through your letter box - although you might see quite a number in magazines. They invariably have glowing testimonials - but they're only sold by mail order.
You send them your money - it might be in the form of a credit card transaction online, or maybe a cheque in the mail. In return - if you're lucky - you receive something that doesn't work as promised. More likely, you receive nothing at all.
These are the questions to ask yourself before parting with your money:
Is there fine print that reads "Results not typical. Your results may vary" on the ads? That's a way of covering themselves, and also of saying, you won't lose a lot of weight with this.
Where did you see the ad? Was it spam or on a flyer?
Does their ad include phrases like "scientific breakthrough," "exclusive product," "secret formula" or "ancient ingredient"?
Do they claim the product is only available from them or just for a limited time?
Do they fail to mention any possible health risks and don't suggest a medical exam first?
Do they claim you can eat anything you want and lose weight, often without exercise?
All of those are typical of the scammers. It all sounds so good and so plausible, but they don't offer any scientific proof that their goods work - because they don't have it.
How To Avoid The Scammers
The old adage that "if something seems too good to be true, then it probably is" works well with slimming products. To date there is no miracle pill or diet that will help you shed the pounds quickly and effortlessly - if it existed, the word would spread quickly. But if you really want to try something, think about these things before you order:
Does the company have a proper street address and phone number - not a P.O. Box or mobile. If they don't, be very wary.
Find out about slimming products. If they make scientific claims, research them.
Check for certifications by recognised bodies. If there aren't any, steer clear.
Before you order, check with your GP or your pharmacist to see if they're familiar with the product. If it's a legitimate slimming aid, they should know it.
Consider their claims. How realistic are they? Losing 10 or more pounds a week simply isn't healthy, never mind the fact that it's unlikely to happen. And unless they can be substantiated, these claims contravene the Advertising Standards Authority code, not to mention medical and nutritional guidelines.
If you plan on paying by credit card, think about who will have that information. Do you really want people like that having your credit card number, which can lead to unauthorised use or identity theft?
What To Do If You're A Victim
If you've been taken in by slimming scammers, you can report them to Consumer Direct or, if you think their claims were exaggerated, also try the Advertising Standards Authority.
You might also like...
What the hayall?? Y'all speakin some crazy lingo there fella...
Chubster
- 14-Jun-11 @ 10:15 AM