Holiday Scams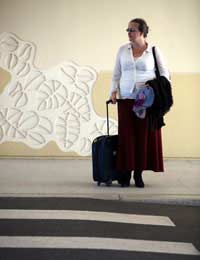 Your summer holiday should be a time to relax. Instead, from the time you book, the scammers are looking for your money, and you need to be on your guard. There are many tricks they can pull. Here are the top five, with ways to avoid them.
Travel Insurance
Your travel agent will almost certainly offer you insurance on your holiday. It might even be "free" as part of the package. But free doesn't exist in the travel business. What you'll find, if you accept their insurance, is that you're paying far more for your holiday.
Shop for your own travel insurance. It's almost certain that with just a little effort you'll find a much better deal than your travel agent is offering.
Paying Extra For Using A Credit Card
Before you reach for your Visa or Mastercard to pay for that holiday, you'd better read the small print. Some travel agents and tour operators charge an extra percentage to pay that way, which can up add to another £50-60, depending on the holiday you've chosen. The problem is, if you use your debit card, not only is the money coming out of your account immediately, but you also lose out on the incentives (like "free" travel insurance) that they offering for using a credit card.
Before you reach for the plastic, weigh up the pros and cons. Your credit card company might already offer travel insurance as part of an annual fee. If you make a number of trips abroad annually, consider taking out a yearly travel insurance policy. It could well prove to be a cheaper option. You might not have the luxury of spreading out repayments if you don't use a credit card, but you will probably save money in the long run (and not only on the finance charges)
The Unofficial Taxi
After the flight, and clearing immigration and customs, you might find yourself on the airport concourse, approached by a porter who offers to find you a taxi to your hotel. The only problem is that the taxi isn't one of the official ones. Instead it will belong to one of his relatives or friends, probably a rattletrap. The charge to take you to your hotel will prove to be far more than you'd have paid if you'd taken a proper cab.
Don't fall for this old scam that's successfully worked every day on unsuspecting tourists. Refuse all offers of help and a taxi, however friendly they seem, and go to the real taxi rank. It'll make for a much brighter start to your holiday.
The Tour Rep
On a package tour, the rep is your buffer against the world. She deals with your questions, helps organise your time, and supposedly makes your stay more pleasant. But she has local contacts, and the chances are she gets a bonus from them when she puts money in their pockets. Watch out for the rep's recommendations on restaurants and day trips - they're probably not the best places, but the ones that offer the most commission.
It's your holiday, enjoy it your own way. You don't have to accept a tour rep's recommendations. You can go your own way. If you go to the places she suggests, you'll simply end up paying a premium that goes to her.
The Holiday Rental Car
Whenever you rent a car you have to pay attention to all the charges, but that's especially true on holiday. According to the AA, the most common scams when renting a car on holiday are:
You're given a car that's not the model you booked.
You find there's an extra fee for dropping off the car at a location other than where you rented it.
You find that the car doesn't have everything you requested, such as a car seat.
You suddenly find there are unexpected charges you hadn't been told about, anything from refuelling costs to a pollution tax.
You find yourself pressurised into leaving a blank credit card slip so the rental agency is covered in case you bring the car back without re-fuelling it, or for any damage.
You're given a car no U.K. rental agency would let out. The most common reported faults are bald tyres, loose steering and faulty handbrakes.
Don't settle for less than you ordered. International agencies can't afford a lot of complaints, especially at popular holidaymaker destinations. Insist, talk to a manager, and you will probably find that your car has "suddenly" been found.
Keep on your guard on holiday - even when booking it - and you'll have a much happier and peaceful time.
You might also like...