Booking a Villa or Apartment That Doesn't Exist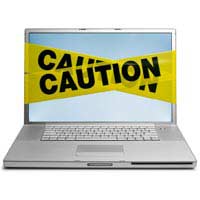 Don't be scammed while you're looking for the perfect place to rent out for your holiday. It's easy to get caught out online by emails from companies offering too good to miss deals and sites that offer unbeatable bargains. But with holiday lettings, you could be getting way less than you bargained for if you don't do your research before you hand out your credit card details.
The Most Common Scams
Results of a survey carried out in 2010 by The Association of British travel Agents (ABTA) and GetSafeOnline revealed that a frighteningly trusting 67 per cent of people hadn't even heard of one of the most popular holiday scams - the non-existent holiday rental scam. This is even more worrying when you add to that the fact that around 22 per cent of people surveyed had actually received unsolicited texts, phone calls or emails purporting to offer a fabulous holiday deal or villa rental – from a company they had never heard of.
What Can Happen?
In what's been called the 'Morairaway' scam, in 2009, many British holiday seekers were scammed out of their hard earned cash by companies claiming to be offering holiday villas for rent in Spain through two of the UK's biggest online villa rental portals. Of course, the villas didn't exist and although some of them will be part-refunded, they've all lost money and had no holiday.
This scam, which was believed to be one of the biggest ever, highlights the need for people to be vigilant when booking a holiday rental. The villas were mainly booked through an online agent called Holiday-Rentals.co.uk - they were themselves duped by the company offering the fake villas and have now agreed to pay limited compensation to the people taken in by the scam. Another villa rental site, holidaylettings.co.uk also offered the properties.
The site operating the scam was based in Spain and has now disappeared without trace. It's not just an isolated case, either. In a similar scam, Britons were conned into booking villas in Cyprus through an online scam.
Luckily for some of the people caught out by the Spanish villa scam, Holiday-rentals.co.uk offered a guarantee scheme that covered consumers for losses up to £3,300 – excluding the cost of any flights and car hire booked in order to get to the non-existent villas. The company isn't legally liable for the losses incurred as they were simply advertising the villas on behalf of the bogus companies. In this case they have also offered a reduced amount of compensation for customers who booked villas through them who weren't covered by the guarantee.
It Pays to Pay securely
The company that offered the fake Spanish villas should have aroused suspicion through their payment methods if nothing else - Morairaway.com asked for payment to be made at least 60 days before departure by money transfer or banker's draught. This should have rung a few warning bells with suspicious consumers.In the Cyprus scam, 90 per cent of victims paid for their holiday using PayPal – which is becoming a more and more respected legitimate method of paying for goods online. In this case, at least, consumers were covered by PayPal's own guarantee as long as they complained within 45 days.
Avoid Being Caught Out
The Morairaway scam is a difficult one as people used a trusted site to access the Morairaway website and had no reason to assume that the company was bogus or the villas non-existent. But in some cases it's more obvious. Don't ever respond to unsolicited offers by email, text or any other form. If they sound too good to be true, they probably are.
Check the details of any holiday retailer that you don't recognise. Remember that a legitimate company doesn't need to sucker you in with a pop-up advert, and if you don't recognise the company name or you can't find them on a basic web search, they probably aren't legitimate anyway.Try to speak to the villa's owner or their agent directly if you're renting privately. Ask for letters of reference or testimonials – most villa owners will be only too pleased to oblige.
You might also like...
Be very wary of booking villas without speaking directly to the owners. I booked a villa (villa consuela fuerteventura) through owners direct by using the enquiry form on the site, the enquiry was then sent to the villa owner whose email account had been hacked. i received an email from sunnyrentalsspain@yahoo who posed as the property company, they answered all my questions and i booked the villa and paid for it using bank transfer. a week before the holiday i had another question and when i emailed a few times at got no response i finally phoned the contact number and spoke to the real owners who knew nothing about our booking. I ended up with no villa and the best part of a thousand pounds down. seems nobody will take liability for my data being mishandled. the police are investigating but i doubt i'll ever see my money again.
andie
- 4-Sep-12 @ 12:59 PM