Avoid Getting Scammed Abroad: Protect Yourself!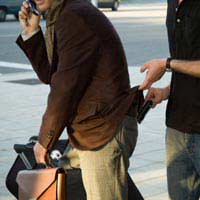 When you're on holiday and having fun, you tend to feel more relaxed and that's why holidaymakers are prime targets for scammers looking to make an easy buck.According to insurance provider LV, an embarrassed 21 per cent of Brits admits to having been caught out by a scam while in Europe on holiday – and the Office of Fair Trading (OFT) guesses that the total number of holidaymakers that are scammed could add up to over 400,000 a year.
Be Careful with your Cash
Not technically a scam, but pick pocketing is rife in many larger resorts, and you don't want to show the world where you keep your cash by advertising it with the typical tourist bum bag. Pick pockets are on the lookout for wallets, open bags and shoulder bags, bum bags and any way of getting their hands on your money. You could try keeping smaller amounts of cash in different places. That way they won't get away with your entire stash of holiday money.
Keep copies of your important documents – passport, driving licence, tickets visa etc. Don't keep them in a bum bag either.
Talking of cash – always make sure that you get your currency exchanged at official bureaux de change or banks. That way you'll be less likely to end up with counterfeit cash or being short-changed. Some countries have a thriving currency market with places advertising 'best rates' for converting your traveller's cheques or cash into the local currency. They probably do offer a good rate but they may not be all they seem. The catch may be added fees, as well as the risk of being scammed by being short changed or given fake money. Don't risk it, always go official.
Be Careful What You Leave in the Hotel
It's not always a good idea to assume that everything you leave locked in your room will be safe there. People other than hotel staff can get into your room, or villa, and there's no guarantee that the things you put in the room safe will be there when you get back, depending on the quality of the establishment you're staying in.
Don't leave your important documents in the safe in your room. You could ask to keep them in the hotel safe or even hide them elsewhere but if anyone wants to steal your identity, the first place they will look for your passport, credit cards, visa etc will be guess where...the hotel safe. You don't want to be a victim of an ID fraud or scam when you get home.
Always make copies of all official documents and keep your originals in a safe place.
If it Sounds Too Good to be True it's probably a Scam
Most scams whether home or abroad rely on the 'good deal syndrome' – the fact that most of us can't resist a bargain. After a few sangrias, the opportunity to own your very own piece of paradise may be tempting, but there's still no excuse for being suckered in by the annoying Timeshare reps "We aren't timeshare, we're Holiday Ownership," who populate many of the Spanish, Balearic and other European resorts ready to pounce and sell you a dream.
A real case of giving an inch and having a mile demanded, these reps will convince you that you should go to a presentation and sign on a dotted line with the pretence of a free holiday being up for grabs. The holiday will have more than one catch and be notoriously hard to claim...but you'll be stuck in that room and plied with drinks until they get that elusive signature from you. Then you're stuck with a contract for an expensive holiday in Spain every year in an apartment that's not actually ever yours, and you'll wish you had told the rep to leave you alone while you were back on the beach.
Check your Souvenirs Before you get Home
It's a classic – the lovely, chatty man on the stall offers to wrap up your goods for you. What a nice man. When you get them back home, you give the expensive ceramic donkey to your parents only to find that when they unwrap it, it's not what you thought it was. Buying goods that are wrapped at the back of the shop for you and then switched with a cheaper item is an all too common cheeky scam. Ask for your goods unwrapped. If they insist on wrapping them for you, that's when you should start to become suspicious.
You might also like...
Thanks guys, I received a letter form the EIEC today regarding copyright and it seemed pretty genuine, luckily I didn't cough up the £479! Keep up the good work
Radebee
- 20-Aug-11 @ 1:41 PM