Holiday Club Scam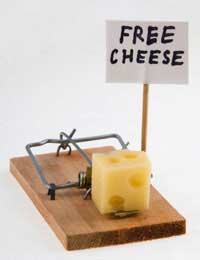 The holiday club is a good idea. Or, perhaps, it used to be a good idea, until the scammers muscled their way into the market. Now it's becoming difficult to tell the real from the bogus - but we give you help through the maze.
How It Works
It might be a phone call, or you might be approached on the street by someone with a scratch card for you. Either way, it turns out you've won a free holiday. The only thing you have to do to claim it is to attend a presentation, usually at a very nice hotel.
At the presentation, you'll learn first of all that your holiday might be free, but everything around is - including flights - isn't. Nor can you go when you want. But you're curious enough to stay anyway, persuaded by the salesmen, free food and drink, and you hear the presentation.
It sounds good, and the brochures make it sound attractive and exclusive. By the time they put a contract in front of you - usually several exhausting hours after your arrival - you're ready to sign, worn down, and hopeful. After all, the claims are extravagant, that the club will give you everything you want in a holiday, that you'll make your money back in it in just a few years - even that it'll be valuable enough to leave it to your children.
It's a scam. Look at the fine print and you'll see that the contract might be very different from the sales pitch. They don't guarantee holiday dates or destinations, they don't guarantee their advertised discounts, and the value of your subscription is actually worthless.
Above all, the club won't be held accountable for any promises made by its reps. All they agree to is what's in the contract - and their obligation is usually very small.
How To Avoid The Scam
The first rule of thumb is that if something seems too good to be true, then it probably is. Remember that. But also keep these in mind:
You can leave at any time during the presentation. No one is forcing you to stay, although the sales people might try to persuade you.
Demand to have all their verbal promises in writing. If they refuse, leave.
Take time to review the contract. Don't believe warnings of discounts only available that day. If the contract differs from what they've promised, walk away.
Be careful of the free alcohol. It's easy to take advantage of someone when they're tipsy or drunk.
Ask if you can take the contract away and review it. A reputable club will let you, and not pressure you into signing there and then.
Ask about your cancellation rights, and get them in writing.
The best thing you can do is refuse to sign anything on the day. Don't be pressured.
What To Do If You're A Victim
Unfortunately, unlike timeshares, with a holiday club, under the law you don't have the legal right to cancel if you have second thoughts - which is another good reason not to sign on the day. A lawyer might be able to help you reclaim your money, but no official body can.
However, you should inform the Office of Fair Trading about the situation. They will follow up to help other people avoid this scam.
You might also like...