Bus Accident Scam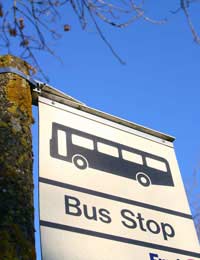 Once a scam has been around for a few months you can almost guarantee that some enterprising soul will come up with a variation on it. That's been the case with the so-called "crash for cash" scam, where a staged auto crash can mean big insurance payoffs for unprovable injuries.
With cars that affects a few people. Think on a bigger scale, though, and there's some serious money to be made. The idea of the "accident bus" seems to have originated in Canada, but there has been at least one report of someone mooting it in the UK.
The way it works is fairly simple. As with crash for cash, it's a staged accident. This time however, the victims are on a bus – and pay the organisers to be on the right bus at the right time. At some point on its journey, a van, driven my one of the scammers or by someone they've employed, hits the back of the bus, not hard enough to do serious damage, but enough that claims of whiplash, back and neck injuries and soft tissue injuries, known as "subjective injuries," could be filed, giving people a payout in the thousands.
How to Spot the Scam
Like other scams of this type, it's not necessarily too easy to spot. After all, accidents do happen, and at times buses are full of riders. However, accidents of this type are unlikely to be staged at busy times.
If there seems to be an unusually large number of people on the bus for the time of day, or you spot someone apparently guiding groups of people onto the bus, you'd be right to be suspicious. That also applies if a large group gets on the bus at one stop that's not a terminus or station.
When it comes to the "accident" itself, if plenty of people seem to have suffered minor injuries that aren't obvious, that should also raise red flags, especially if the bump between vehicles was small, as it inevitably will be, just a fender-bender, since anything worse could mean real injuries, a more thorough police investigation and the possibility of charges and the scam being easily discovered.
What to Do About the Scam
If you believe you've witnessed this scam, you'll need to talk to investigators from the bus company involved. This is a highly organised scheme, and those who take part pay for the privilege, giving the fixers up to £250 for the chance to ride the right bus and end up with thousands in compensation for their supposed injuries.
Obviously, it's something that can't be replayed too often, or it will definitely arouse suspicion. But it's one where the scammers – if they get away with it – gain a reasonable payday even before the accident. If they get, say, 40 people on a bus at £250 a head, that's £10,000, and they offer no guarantee as to how much, if at all, the "victims" might receive in compensation.It's worth noting that in one Canadian scam of this type that was broken, one of the people apparently behind it ran an injury rehabilitation centre – a perfect place to validate injuries that might have been received in the crash.
You might also like...