About Our Site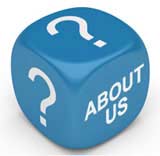 SafeFromScams was formed to offer a unique reference point on staying safe from scams.
It's a very dangerous world out there. You might lock your doors, but they're still out to get you. The scammers are everywhere. They want to part you from your hard-earned money, to steal your identity, or simply take advantage of your honesty to make a profit from others. You might be law-abiding, but they're not. There are thousands of them, in person, in business, on the phone and online - and they're growing more ingenious all the time.
The Internet has seen a proliferation in scams, some of them very clever and subtle. It can be all too easy to become a victim. But that's why we put safefromscams.co.uk together - to help keep you safe, and to keep your money where it belongs, with you.
This site is the resource to learn about scams of all types, from the classics that are still being run regularly, like bill-padding, builders, and chain letters - which still work - to the new ones that keep appearing, things like phishing, mobile phone scams, or those fake lotteries.
They're all here. We want you to be informed and aware, to help you keep the scammers at bay. We'll tell you about the fake tax experts, the pyramid schemes, credit card cramming, and what to do if your identity is stolen. We tell you how the scams work, why people fall for them, how to make sure you don't, so you don't become a scam victim.
Related Articles in the 'Site Information' Category...