Telephone Scam: 070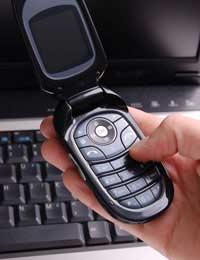 In a variant on the lottery scam thieves have been persuading people to part with personal banking information by using 070 numbers.
The 070 numbers were introduced a few years ago as "personal numbers" for people on the go, and could be redirected to a mobile or landline. They cost more for the person dialing than the usual 01 or 02 numbers, but are free to obtain.
A phone number that people can call brings more trust than an e-mail or a letter, and a number of people have been caught by this scam.
How It Works
You receive a letter or an e-mail stating you've won a cash prize, but the people sending the letter need your bank details to be able to deliver it to you. You can reply, or you can call a 070 number.
The fact that a number's included leads many to believe this is real, not a scam, and they do call, handing over personal financial information. Before they know it, the scammers have used their bank information to empty their account.
What they don't realise is that 070 numbers are easy and free to obtain, and can be quickly discarded. You don't even need to be in the UK to have one, although the callers don't know that. When they believe they're talking to someone in Britain, it's perfectly possible that the person at the other end of the line is in Lagos or somewhere similar. In fact, these throw away numbers are the most commonly used for scams behind US phone numbers.
How to Avoid Becoming a Victim
The first thing to remember is that you can't win a lottery or competition you haven't entered. When you receive a letter or e-mail saying you've won, especially when the figure is in the millions, treat it with immediate suspicion. People don't give away those kinds of sums for no reason. It might sound tempting, but don't let greed get the better of you.
Is there an address on the communication – and that means a real street address, not a Post Office box? A business should have a proper street address and also be registered in the UK.Quite simply, the easiest way to avoid this scam is to not respond to it. However, if you do, never give out financial information, that's just asking for problems.
The good news is that from the end of 2007, there will be no more 070 numbers issued, meaning that this particular scam will end. But it's certain to pop up again in a variation, using a different kind of phone number, and in the meantime a number of people will become victims.
What To Do If You're A Victim
If you've been taken in by the scammers, the sad truth is that there's little you can do. Unless you, or the police, can persuade the 070 operating company to reveal where the calls go, you're stuck. While they'll almost certainly co-operate, the likelihood is that the location is far from Britain, meaning you're unlikely ever to see your money again. Report it to the police, and inform your bank, obviously, closing the account and opening another.
You might also like...
hi i was buying a pair of parrots i was given a number to ring 07023056673 is this a scam number
richie
- 6-Aug-13 @ 4:56 PM
@babs. That's despicable, playing on someone's desire to get work! Have you reported this to the police and gumtree?
SafeFromScams
- 3-Jul-13 @ 12:20 PM
I saw an advert on Gumtree for a bartender job in a new bar in Brighton. I rang the number and was asked to call an O7 number to talk to thier colleague about the job. I rang the number and proceeded to be interviewed on the phone for approximately 1 hour. The person on the other end of the phone did not sound as if they knew what to ask but I was desparate for a job so I stayed on the line and answered the questions. Surprise Surprise I never heard from them again and when I got my mobile phone bill there was a call charge to this number for over £50 which I can do nothing about. I want to get this scam known so nobody else falls for it - no matter how much you need a job. B
07053500518 is a fraudulent number. Tony Render (he calls himself) emails you from his yahoo email address and says to telephoned the number in order to arrange an interview for a job. You hold for a long time as they play music and a message saying "sorry, we know that you are waiting and a member of staff will be shortly with you." This is a premium number. Do not call them, they call themselves Team Recruits and offer part time and full time jobs even for those who do not have work experience.
H.Peters556
- 13-Feb-13 @ 8:52 PM