Free Mobile Phone Scam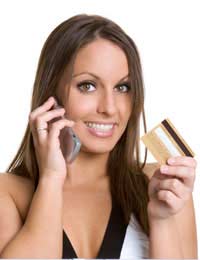 The scammers are after your money, and they keep coming up with creative ways to try and get their hands on it. No sooner is one scam uncovered than they've moved on to another. They play on a mixture of fear and desire - the fear your personal and financial details might be out there, or the desire to acquire something for little or nothing.
One of the newest scams goes for the latter, with an offer that seems almost too good to be true (and one thing to remember - if something seems too good to be true, then it probably is).
How It Works
It all starts when you receive a text reading: "_____ Customer. You have been selected for a completely free phone 1st come 1st served. Call free on 0800 _______." From: "Call Now".
When you make the call to the toll-free number, you'll talk to someone pleasant claiming to represent a company working with your mobile phone network. They'll offer you one of the latest phones, absolutely free of charge, in return for an 18 month contract with the network that includes 1000 minutes and texts a month - a remarkably attractive offer. But it gets even better. The contract is £40 a month, and although you pay the monthly bill, each quarter the company will deposit £120 into your bank account. In effect, you're getting a free phone with an excellent calling plan that you can use yourself or give to a family member, all for nothing. That can be hard to resist.
Of course, they want details from you. They need your address to deliver the phone, your bank details, in order to deposit the quarterly refund, and your credit card details, including, of course, the security number from the rear strip, in order to verify your address.
They'll even offer a landline number for call to use in case of any questions. You're happy with the deal…and so are they.They now have ample information to begin a complete identity theft on you. You've given them your complete credit card information, bank details, and address. Actually, you've given them everything they need.
What To Do If You've Been Scammed
If you have second thoughts after hanging up the phone, don't despair. There are things you can do. First, try the numbers you have - the landline and the toll-free. The chances are that the landline is a bogus number, probably that of another company, and you might not even get a response on the toll free, or of you do, it will belong to someone who's never heard of this company.
Try your mobile network, although the chances are they'll claim never to have heard of the company that called you.From there, contact your bank. With the sort code and account number no scammer can directly remove money from your account, but you should ask the bank to monitor the account for unusual activity, anyway. But you've also given out credit card details. Contact the card company, inform them what's happened, have them stop the card and issue you with a new one.Additionally, contact the credit reference agencies and tell them, too. Have them flag your account in case of any new credit applications. Done quickly, you should be able to avoid identity theft.
How to Avoid the Scam
The easiest way to avoid the scam is never agree to anything over the phone, and never give your financial details without investigating the company first to ensure they're legitimate. You might be pressured to agree on the spot; if so, that should raise warning bells for you.
Remember, above all, that if it really does seem to be too good to be true, then it probably is - and you're much safer keeping away from it.
You might also like...