Dialling Premium Rate Phone Lines to Claim Non-Existent Prizes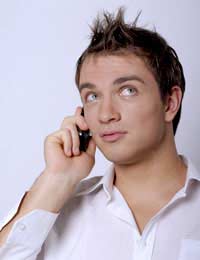 Have you ever had this happen? You're busy with something when the phone rings. Dropping what you're doing, you answer it, only to find a recorded message telling you that you've won a prize - something worthwhile, such as a holiday. The message makes it sound appealing and valuable.
There's only one catch - to claim it, you need to call back on a number that starts with 090 - a premium rate phone line.
Don't do it.
It's all a scam. There is no prize, and if you call, you've fallen for the most common scam in Britain, according to several estimates; some 58% of the population have been hit by it.
How It Works
The scammers use an automated message as well as automated dialling to reach literally hundreds of numbers at once. Obviously, only a small percentage of those will call back, but the ones who do are connected to another recorded message.
What you might not know is that with the 090 prefix, the call is on a premium rate line, and is costing you £1.50 a minute. If you want the details of your supposed prize, you'll need to listen to the entire call - which lasts around 10 minutes, meaning you're spending £15.
But even then you won't be able to claim it. As you'll discover, if you listened to the whole message, you'll still need to send away in writing for the prize - which will lead to more complications, simply because the prize doesn't exist. What they want is your money from the call. £1.50 a minute might not seem like much, but multiply it by hundreds over the course of a day and it quickly mounts up to become some very serious money.
Even though the fines, if convicted of of this premium rate scam, stand at up to £250,000, it hasn't discouraged too many people, an indication of just how profitable it is.
What To Do About It
The short and simple answer is not to return the phone call - as with all scams you'll only spend money and end up with nothing.
However, if you do initiate the call, as soon as you realise what's happening, hang up! You won't get your money back, but at least you won't be throwing it all away.
If You're A Victim
You can report the scammers, and you should. Again, it probably won't bring back the money you've spent, but your complaint might help bring them to justice. Don't contact Ofcom; instead you need to get in touch with PhonePayPlus, which is the regulatory body (funded by the telecoms industry) that covers UK premium rate services. They can be reached at 0800 500 212 or through their website, www.phonepayplus.org.uk.
If there's a successful prosecution of the scammers (and there have been a few in Europe) then you do actually stand to have a refund of the money you spent on the call, although from complaint to refund could take a very long time.
The simple fact is that in most instances the scammers will get away with it, and the ones who don't often find that fines are in the region of £5,000 - £35,000 - nowhere near enough to discourage them, or to stop others entering this lucrative scam market.
You might also like...
My wife has just answered a phone call from the number 02921390035 telling her she was due a refund, that if she did not want to proceed press 9 which she did. I thought this could be a scam? J hart
Shimmer
- 17-Jan-13 @ 1:36 PM
I haven't heard of this scam in two or three years. Does it still exist? Do people still fall for it or has it all fallen by the wayside as the scammers move online? Or is it that people have generally figured out that this can't be real and have moved on so it just doesn't pay? I'd be curious to know because scams seem to go in and out of fashion. After all, people are still receiving Nigerian emails offering a fortune in their bank accounts, so maybe it's just me not hearing more about this.
martin
- 4-Jul-12 @ 6:14 AM