Quiz Show Fraud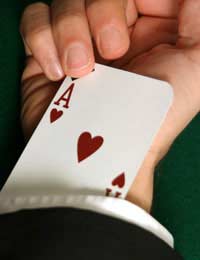 For as long as there have been quiz shows on television, there has been fraud. Sometimes it's actively condoned by the producers, at other times they've been cheated by the contestants. However it works, it's the viewing audience, often in the millions, that's cheated. There's been a movie about the American quiz show scandals of the 1950s, and when it was revealed that Major Charles Ingram cheated on Who Wants To Be A Millionaire?, it made national headlines for weeks.
How It Works
There are two types of quiz show frauds, those made with the full knowledge and backing of the show's producers, and that perpetrated as a conspiracy by contestants.
In the first case, the usual way is to coach contestants on the answers. That's exactly what producers did in the 1950s in America. Television was a new medium, and every show had huge ratings. People believed what they saw on their screens in black and white, and trusted the shows to be real. So when the revelations of cheating on The $64,000 Question, Twenty-One and others, it became a national scandal. Popular contestants had either been coached on or given their answers, or asked questions in their area of expertise, whilst the less popular were given impossible answers. In the wake of the scandal, quiz shows essentially disappeared from television for two decades in America, and spawned the major movie, Quiz Show.
The cheating contestant had always been a possibility, but it really erupted in Britain with Who Wants To Be A Millionaire? when Major Charles Ingram, his wife and another man were convicted for it. Using elaborate coded coughs, they defrauded the programme of a million pounds - and Ingram was also forced to resign his commission.
More recently there has been speculation that the show Grab A Grand is fixed. Web logs (known as blogs) have suggested that the viewers calling in aren't genuine viewers at all, as so many fail to identify the correct answer, or that the producers only pick those with the wrong answer.
How To Avoid The Scam
With careful cheating, there's little chance of detection. It needs very sharp eyes and ears to raise suspicions, and even then proving the matter is much harder. In the 1950s it was whistle blowers who ruined the quiz shows, and even then they weren't believed at first.
The fact is that, just as much as in the 1950s, people want to believe quiz shows are real. Most of them are, and even on the shows that are fixed, the majority of candidates are legitimate.
Even after accusations, actually proving the guilt can be very difficult. The evidence would need to be compelling.The final answer is that there's no way to avoid it. People will cheat, for differing reasons, and audiences will continue to watch, especially as the tension rises.
If You Believe There's A Fraud
With quiz show fraud, it's the entire viewing audience that's scammed. Not only do the winners walk away with the money, but the producers win high ratings and attendant publicity (as a player nears the jackpot, more people tune in). The only ones to lose are the viewers, whose trust is shaken when the truth emerges.
For obvious reasons, no one knows how many successful quiz show frauds there have been over the years. But the chances are that not all of them have been discovered.
If you feel you've discovered a fraud on a television quiz show, contact the network airing it. They want to retain their credibility, and will investigate all accusations where proof of some kind can be offered.
Safe From Scams is sponsored by Purely Energy, who have funded a lot of our content. If you are looking for a low cost business energy supplier, take a look at their website.
SAFE FROM SCAMS IS FOR SALE.
This website is for sale [more info].
You might also like...