Martin Frankel: Master Scammer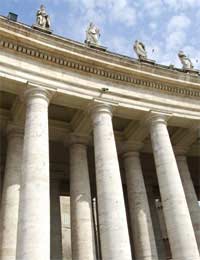 The world is full of people perpetrating scams, but few have done it on the scale of Martin Frankel. He created a financial house of cards – what was essentially a Ponzi scheme – that was worth over $200 million, living a lavish lifestyle with mistresses, and even attempting to con the Vatican.
How Did Frankel Begin?
Born in 1954 in Toledo, Ohio, Frankel was a university dropout and an unlikely financial genius. But in the mid 1980s he managed to convince John Schulte, the head of a small brokerage house, to take him on – and promptly began an ongoing affair with Schulte's wife.
Fired for his conspicuous lack of success, Frankel wasn't discouraged. He simply formed his own company and persuaded another company to make him their local representative, drawing in individuals with fabricated stories about his wondrous trading abilities (in fact, Frankel had others make trades for him, since the process scared him so much).
He moved to Florida and took the money of many individuals looking to make a quick buck in the market. However, most of them lost, and by 1991 Frankel had been banned for life from trading securities by the US Securities and Exchange Commission. A lesser man might have taken the hint, but by now Frankel had the bit between his teeth. He'd tasted wealth and he wanted more.
How Frankel Worked His Ponzi Scheme
Frankel's next move was to set up two new companies, Creative Partners Fund LP, which was intended to draw in a whole range of investors, and then Thunor Trust, which began purchasing the assets of insurance companies going through hard times. He used the money of the first insurance company he bought to pay off the people who had money in Creative Partners.
Frankel spent seven years buying failing insurance companies, until he claimed Thunor Trust had assets of over $400 million, after which he finally bought an insurance company that was in excellent financial shape. He even attempted to claim real respectability for his company by trying to align it to the Vatican, offering to use $50 million to found a St. Francis of Assisi Foundation for the Church. That didn't work, but he did however find an ally there in Monsignor Emilio Colagiovanni, an official with the Vatican court, who began working with Frankel.
Like anything built on sand, eventually things began to fall apart, and for Frankel that happened in 1999, when the State of Mississippi began supervising three insurance companies he owned there. Now it was just a matter of time until the entire edifice collapsed, but Frankel was determined to try and get away.
He converted much of his money – literally millions of dollars – into diamonds, acquired fake papers and bought a private jet before flying to Germany, taking two – yes, two – of his mistresses with him. Arrested in Hamburg, he was accused of using a false passport and smuggling diamonds (minor charges compared to his real crimes), before being sentenced to three years in jail.
What Happened In America
US authorities weren't about to let him get off so lightly. In his absence he was indicted on fraud charges totalling $208 million, and after extradition back home, in 2004 he was sentenced to 16 years in jail, while others around him, including Colgiovanni, also faced varying charges.
How Could It Happen?
After events like these, people always wonder how it could have happened. The simple fact was, and still is, that there's often far too little oversight in various areas of financial trading. The insurance scam was making money, so people wanted to be involved; they didn't question how or why it worked, simply accepted the fact that it did, and that Frankel's particular genius made it happen. Once it all came to light, of course, it was far too late. Far from tightening controls, little seems to have been done – the scandal of Bernard Madoff at the end of 2008, where people seemed to have lost around $50 billion, only highlights that fact.
You might also like...