Insurance Sales Scams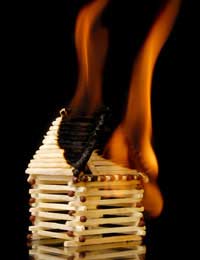 You might believe you can trust your insurance agent and your insurance company. Indeed, in most cases you can. But in any financial field there are crooks, and you need to be very careful. After all, this is the coverage that can replace your home and your possessions in case of fire, damage or burglary, or replace your car. You need to make sure you have the proper coverage - and that the coverage actually exists.
How The Scams Work
Stealing The Premium
In May 2006 a Scottish insurance broker was convicted of fraudulently selling £10 million of policies. When investigated, he was shown to be selling home insurance policies without proper cover. Customers making claims were left out of pocket and 43,000 policyholders discovered their documents were not covered by insurers. One man was left £46,000 in debt to builders after a house fire.
Essentially he was stealing the premiums for his own use. Obviously it does happen, although thankfully it's rare.If you take the broker on trust, then there's no way to know until you need to make a claim, by which time it's too late. The only way to make sure you're covered is to actually call the insurance company and check - something most people would never think to do, although it adds a level of security.
Selling Coverage You Don't Need
There are two forms of this, known as "churning" and "sliding." With churning, unscrupulous agents convince customers to use the value of their current whole life policy to buy a "better" policy. However, their present life coverage is already perfectly suitable. The agent gets a nice commission, but you must start building up cash value all over again.
The only way to avoid this is to be aware of your insurance needs, and not to allow yourself to be persuaded. That's not always easy, and the scammers will prey on the lack of knowledge. It's your money, and you should be aware of it - after all, you know how much you have in the bank.
Sliding is when an agent or insurer sells you extra coverage you didn't ask for and didn't know about - but you do pay for. This can easily add £50 or £100 more to your premium, quite a tidy sum. Often the agent will dismiss it as part of a "package," or doesn't tell you about it at all. Memberships for motor clubs, accidental death coverage and definate renewable life insurance are three policies that criminal agents sometimes sell to unwitting policyholders. They get to keep the extra commission.
Know the coverage you want and how much you want to spend. Examine the policy closely, and don't let yourself be persuaded to take coverage you don't need or any "add-ons." Remember, the agent or broker is a salesman - the more he sells you, the more he makes.
How To Avoid The Scams
Be suspicious if you're offered coverage at a much lower price than competitors. Shop around to find out the normal price range.
Always pay your premiums by cheque or direct debit, and make sure it goes to the insurance company, not the agent or agency.
Think twice if the agent insists you pay in cash, or tries to sell coverage in unusual situations such as in a restaurant or pub.
Buy coverage only after all documents are completely filled out, you fully understand what coverage is included, and what the cost for coverage is. Make sure your agent clearly explains all.
Be careful if the agent or company rep seems evasive or won't answer your questions. If he tries to sell you coverage without "bothering" your family, terminate the interview.
Never sign a blank insurance form or give your agent power of attorney to sign an insurance application or buy coverage for you.
Get a copy of every form you sign. If you pay in instalments, make sure your agent gives you paperwork that describes exactly how much you pay for each instalment, and what that payment covers.
Contact the company if you haven't received a policy within 30 days after sending in your application.
ask fro another opinion if an agent attempts to sell you a more expensive coverage despite you still having a current policy in effect. Talk to your financial advisor or another agent. Ask the selling agent direct questions, and get the answers in writing: Why do you need this coverage? What exactly are the benefits? What is exaclty covered? How much will it cost?
Know what your current policy does and doesn't cover. Ask your insurer or agent insurer for a detailed explanation in without the jargon. Ask pointed questions if you have any doubts about what's in your policy.
Make sure your insurance company is healthy and can pay claims - especially if it's an unfamiliar name.
You might also like...