Job Hunter Scam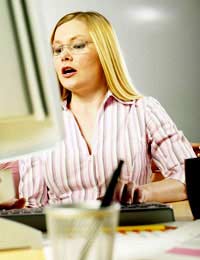 They say the best time to look for a job is when you already have a job. But there's no good time to be scammed and that's especially true when you're job hunting and hopeful. Yet it's been happening. Not only does it raise the hopes of people who respond, it can also drain their bank accounts and leave them having to try and reclaim their identity.
How It Works
You post your CV on a job web site and hope someone's interested enough to respond. When you do receive a response, it's with an offer that sounds very interesting. However, they want you to go to their site and register your details with them.So far, that can seem reasonable. What you need to watch out for is if they ask for a lot of information, including your e-mail address and require you to create an account with a password. In the hope of a job, you might well go ahead and do it, but beware – it might not be as legitimate as it seems.
What you might well have done is fallen for a very slick variation on the phishing scam. The site is phoney, and the information they gather from you, if it's the right information, can be used to fleece you. All they have to do is keep trying until they find your bank and they stand a fair chance of being able to get into your account, not to mention other accounts you might have.
The thing is, you might never even realise where it all came from as you wait in vain for the company to contact you about an interview.
How to Avoid the Scam
It's difficult not to feel a surge of hope or elation when you're contacted about a job. But you always need to approach with caution. If you've never heard of the company involved, do some checking first. If there's a contact number on the site, call it and confirm that they work this way, having applicants register. If there are no contact details that should raise a big red flag for you – no legitimate company would operate without posting them.
Google the company. You might find that people have posted complaints, which should warn you off. The big sites, such as Yahoo and Monster, all warn about possible fraud and urge people to be on their guard. They also check the postings for jobs every day to try and make sure nothing illegal goes on. But, realistically, it's impossible for them to police it completely.
Rather than be swept away, you need to be very careful and keep your wits about you. Question everything, if only to yourself.The sites the scammers create can be very sophisticated and convincing, enough to fool even the web-savvy and cynical. A lot of the information might seem innocuous. But it's not, as long as they get what they need.
If it is a scam, you'll get off very lightly if you start receiving a lot of junk mail. At worst, you could be facing a serious banking problem.
What To Do If You Think You've Been Scammed
Contact your bank and card accounts immediately, and change your passwords for all accounts you use online. Keep a very close eye on your credit card and bank statements (check your bank daily online). Contact the credit reference agencies, informing them of possible identity theft, and you should also check your credit file on a regular basis to monitor any activity there. If any new accounts are opened, contact the companies directly.
You might also like...
I was offered the same position as well it sounds so great and I was so excited and then I got to thinking that it sounded a little too good to be true, I started to do some investigating if you can call it that and went to the site and they have not updated they're latest news column since 2010 and that in itself got me thinking even further. I did further research to see what companies have done business with this so call premial insurance and I have not gotten anything solid. Just be careful. Don't give them any more information then what they already have. I'm even considering changing banks now because they have my email address and name God knows what they can be capable of doing with just that information I considering changing email address as well. I don't think its fair that scammers get to go unpunished for setting people up and getting peoples hopes up that they have been considered for this amazing job and in top of that cleaning you bank account out. I plan to follow this and do whatever deems necessary so it doesn't go unnoticed and to make sure they don't get another chance to fool anyone else if this happens to be a scam. I'll post latest updates when I can. D
DMGP
- 1-May-11 @ 12:05 AM
This Premial Insurance company has been contacting me from the UK... they say they are looking for account managers?When I research who they are all I get this the same web site they had forwarded to me.... any feedback on this would be helpful.
zee
- 18-Apr-11 @ 4:30 PM