Scams And Seniors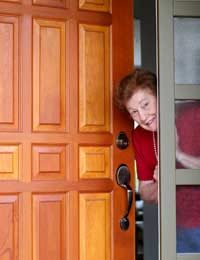 Scam artists are always eager to take advantage of people. But they're particularly happy to find older victims who can seem like easy targets. These are some of their main tricks, and the ways you can avoid the scammers.
Cowboy Tradesmen
The cowboys are those builders, roofers and driveway resurfaces who just love older homeowners - when you open the door they see a potential goldmine. Often they'll just knock on your door, claiming they're "working in the neighbourhood" and claim to have seen a problem, just wanting to tell you about it, and offering to fix it. They'll certainly try to convince you, after a very brief inspection and much head shaking, that you need work doing - maybe a new roof, replacing a wall, or giving your driveway a new surface. Luckily they can start the next day, or next week.
Don't fall for it! If you think your house needs repairs, call a number of qualified people and get several estimates before making your decision. Don't decide anything immediately. The cowboys will demand payment up front, and if you even see them again, the chances are the work will take ages, be poorly done (if completed at all) and cost far more than they promised, draining your precious savings. For your own sake, only use reputable people who are members of trade organisations, and who can offer a written estimate including completion date. Be certain to put a payment schedule in writing, including a period between the completion and final period to be sure you're satisfied and offer them a chance to fix any faults.
Financial Scams
All too often older people live on limited incomes, relying on a pension and savings. Making the most of that is important, and keeping your money away from the scammers is vital. One of the most dangerous of their tricks is identity theft.
It can occur many ways, and one of the most popular is called "phishing." It takes the form of a fake e-mail or phone call purporting to be from your bank or a financial organisation. The e-mail might claim to be a security breach or a need to confirm some information. If you answer the caller's questions or click on the link in the e-mail (which takes you to a bogus site that looks exactly like the real thing), you might well find your bank account stripped, or perhaps your credit card used to buy merchandise, or even new credit accounts opened in your name. Reclaiming your financial identity can be a long, arduous and sometimes costly process.
Don't fall for phishing. Never click on a link in an e-mail that wants you to reveal personal information. Instead, open your browser and type in the link. And don't reveal personal details in a phone call - no proper institution would ever ask for them (in fact, no proper institution would make a call like that).
If by chance you become a victim, inform your bank and Credit Card Company immediately. Also request a copy of your credit file from a credit reporting agency and have them place a fraud alert on your file. You won't be responsible for any fraud beyond the first £50.
Some people consider investing their savings to improve their finances. Someone might give you a stock tip they've had from someone else that's "guaranteed to go up." Or it might be the chance to invest in a property development.
Remember, nothing comes free. If something seems too good to be real, then it probably is. The chances are that all those "opportunities" are all scams. Spreading the word to push up stock prices is known as "pump and dump," and the only people to benefit from it are those behind it, who have a large amount of stock and sell when the price rises, leaving all the other investors with worthless stocks. With property, you might well find there's not even planning permission for the proposed development - and no chance of it ever being granted.
The lesson is never to invest without doing your research properly. Don't believe what anyone tells you, even if they're friends or family. Research everything. Does the company you're dealing with have a street address and a landline number? And if you do become a victim, you can contact the Office of Fair Trading or the Financial Services Authority.
Holiday Scams
As you grow older, you might be considering joining a holiday club. Maybe you want to invest in a timeshare as both holiday security and an investment. Whilst some holiday clubs are legitimate, most are scams - and much the same is true for timeshares.
You'll be invited to a presentation, lured by a supposedly expensive free gift, or maybe a free holiday - but they'll prove to be something other (and far less) than you anticipated. You'll be subjected to a lengthy, often intimidating sales pitch for the club or timeshare.
Always remember that you can walk away at any time. Don't let yourself be pressurised into signing any contract there and then. If you want to sign, have everything reviewed by a lawyer first. In the case of holiday clubs you should be aware that there's no cooling off period after you sign. Get every promise in writing, and compare it against the contract. Above all, don't believe a word that can't be proved.
There are many more scams, but these are the main ones likely to be aimed at parting seniors from their hard-earned cash.
Safe From Scams is sponsored by Purely Energy, who have funded a lot of our content. If you are looking for a low cost business energy supplier, take a look at their website.
SAFE FROM SCAMS IS FOR SALE.
This website is for sale [more info].
You might also like...
Scammed out of £12500 by a builder who has been to court several times.I paid by my debit card, have I any chance of getting compensation.I am a pensioner
Pepper
- 9-Sep-21 @ 2:17 PM
Maureen - Your Question:
My sister who is 85 has received a call and visit from eco green improvements, who say she can have replacement windows for her whole house just paying £3000 and they will get a grant for around £7000. She doesn't receive any benefits. Rother council say they are giving no grants out, so is this a scam? She lives in Catsfield, near Battle, E.Sx.
---
Our Response:
She should look into this in further detail. The company you mention does not have a website although there is a listed company trading with that name. The Government ECO scheme is still running but is specific to certain areas and/or income types - and generally relates to boiler replacements and insulation measures. Call the Energy Saving Advice Service on 0300 123 1234 to get this checked out.
SafeFromScams
- 10-Feb-16 @ 11:23 AM
My sister who is 85 has received a call and visit from eco green improvements, who say she can have replacement windows for her whole house just paying £3000 and they will get a grant for around £7000.She doesn't receive any benefits. Rother council say they are giving no grants out, so is this a scam? She lives in Catsfield, near Battle, E.Sx.
Maureen
- 8-Feb-16 @ 3:59 PM